Tour of Northern Italy by Train
Here we describe a tour in detail that you can take as an independent traveler.
Florence - Bologna - Venice - Verona - Milan
with daytrips to Siena, San Gimignano, Modena, Parma, Ferrara,
and Lake Como, Belagio, Varenna, Lake Garda & Lake Maggiore
This itinerary visits the main sights of Northern Italy on this customized tour by train, staying in major cities and taking day-trips to smaller towns and the lake district. We shall enjoy boat rides on lakes Como, Garda and Maggiore while visiting picturesque little villages along the shores. The major cities will provide endless opportunities for exploration of their pedestrian zones filled with unique shops, museums, restaurants and countless historic landmarks.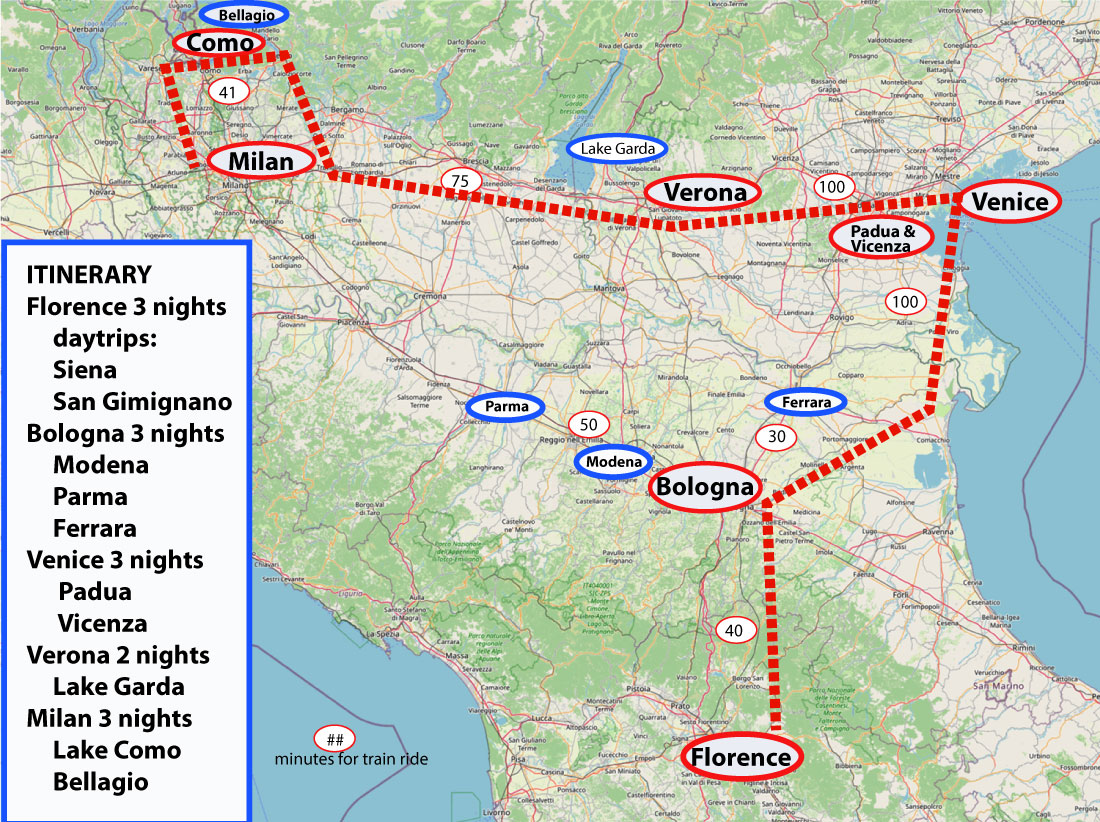 This page presents a summary of the tour, with more detailed information on the other pages.
Click here to see the hotels.
Our hotels have been carefully selected for comfort and central location, putting us in perfect position to get the most out of this trip. Travelling from one city to the next by train is the best way to go, in superb comfort, enjoying scenic vistas rolling by, then arriving in the center of town. Click here to see the hotels.
FLORENCE: 3 nights - click for more info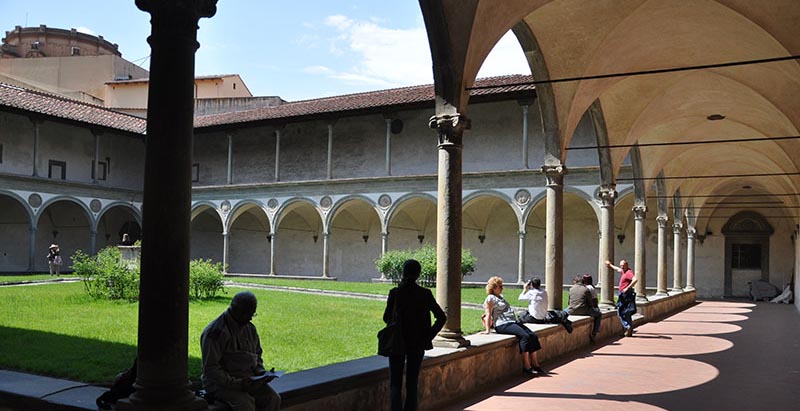 We will explore this fine art capital and discover many amazing and beautiful sights. You will see how Florence became the birthplace of the Renaissance and visit the places where these artistic developments happened in the late 15th century. Our hotel is located in the middle of the city, making it very easy for us to explore the many historic attractions, shops and restaurants. After checking in and having lunch we will go on a walking tour with our local guide, covering many of the important sights.
DAY-TRIPS from Florence: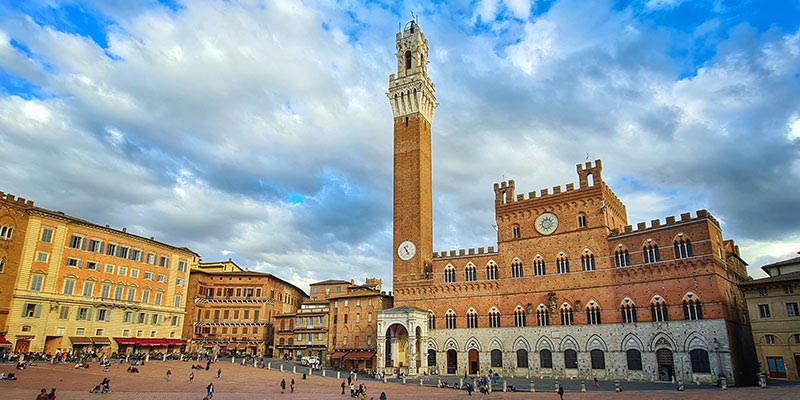 SIENA: In the heart of Italy's Tuscany regions, this is one of the great medieval cities to explore. It's a UNESCO world heritage site, so well-preserved that it attracts visitors by the millions. It's built to a human scale covering about a square kilometer which makes it small enough that you can easily walk from one end of town to the other in a single day and see almost all of the sites in between. There's an endless variety of interesting things to see along your way.

SAN GIMIGNANO: Medieval towers nearly 700 years old pierce the sky of the Tuscan village of San Gimignano. From the moment you walk inside through a gateway in the old wall you feel magically transported into another time and place. Sometimes called a medieval Manhattan because of its ancient skyscrapers. The highest tower reaches 170 feet, and you can climb to the top of several of these towers. From there of course you get a splendid view of the old town and the beautiful countryside around it.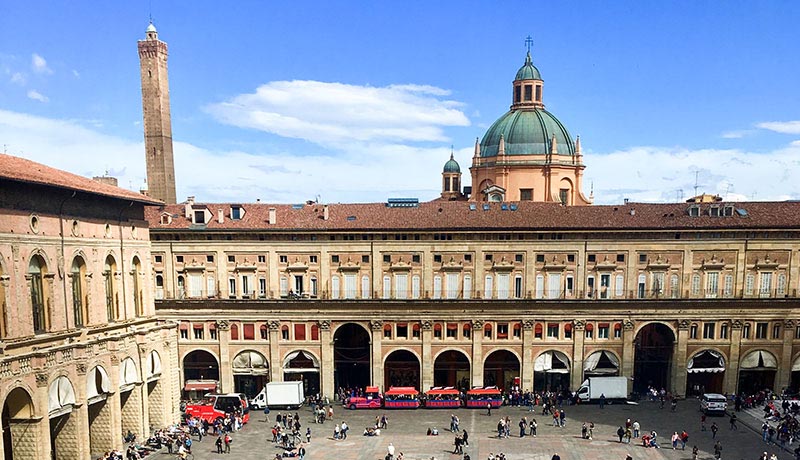 It is the capital of Emilia Romagna, one of Italy's most loved foodie regions. Explore its medieval towers and arched porticoes, famous University and bustling Piazza Maggiore. Don't forget to try tagliatelle al ragu, the local name for Bolognese pasta and sample local wines like Sangiovese, Pignoletto and the sparkling red Lambrusco.
DAY-TRIPS: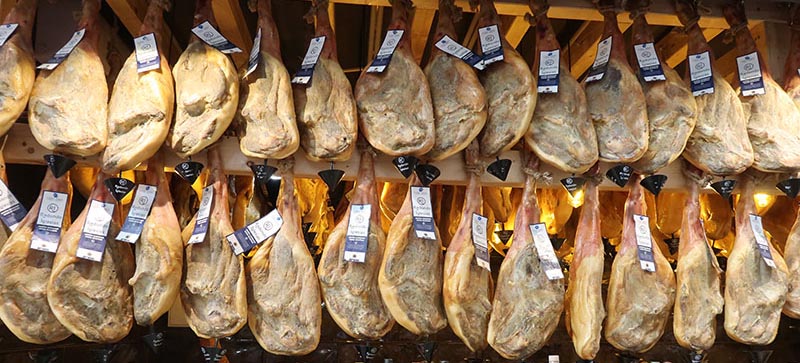 PARMA: Italy's cured meat and Parmigiano capital. This Italian town was UNESCO's first recognized Gastronomic City of Culture and perfectly blends a metropolitan feel with open air charm. Much of Parma's streets are pedestrian only and a great way to spend the day is to hop from art nouveau cafe to cafe, washing down fresh prosciutto with full-bodied Sangiovese wine.

MODENA: World Heritage Sites here include the Ghirlandina Tower, Piazza Grande, and Modena's Cathedral, a masterpiece of human creative genius and one of the best examples of Romanesque style in the world. Modena's Ducal Palace is one of the most important royal palaces of the 1600s.
FERRARA: a medieval Italian city with an impressive defense system. Go for a walk on the city walls, explore the gorgeous Estense Castle or tour the spiky diamond-shaped Palazzo dei Diamanti.
Undoubtedly one of the most romantic cities in the world. Composed of tiny islands joined together by arched bridges and canals, Venice is famous for its opulent cathedral, St. Mark's square, Doge palace and masquerade street performers.
Venice is the city of canals and gondolas, dreams and music, with endless labyrinth of narrow alleys, classic ancient brick buildings, and five hundred bridges. We will get beyond the stage front of Piazza San Marco, to experience this unique city's true character. Don't worry about getting lost. Venice is a relatively small town, so just absorb the overwhelming beauty and enjoy yourself.
With three nights in Venice we will have time to spend one day visiting Padua and Vicenza.

This is a picturesque ancient Italian city, famous as the setting for Shakespeare's Romeo and Juliet. Stroll by the Roman ruins, scope out the medieval architecture and explore its Renaissance palaces in the large pedestrian zone.
DAY-TRIP: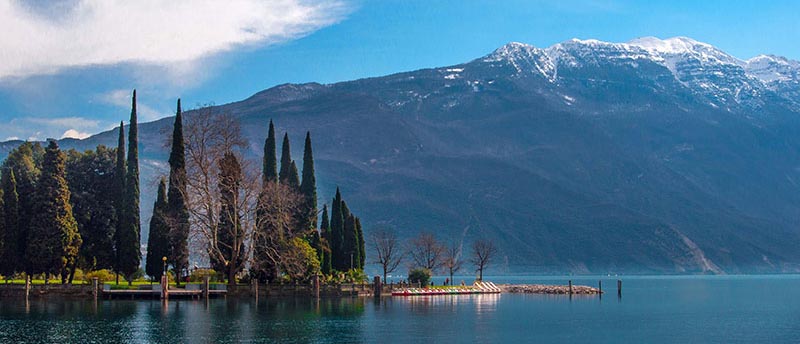 LAKE GARDA: the largest glacial lake of Italy's five lakes, fed by the Alps in the north. If you want an active escape, head here for great sailing, windsurfing, swimming and kayaking. Or, relax in the hot springs at Sirmione, visit the Grotte di Catullo Roman Ruins and relax in the beautiful lakeside gardens.
From the intricate Duomo to the covered gallerias, Milan is a cosmopolitan city full of fashion, fame and fun. Don't miss the Duomo, shopping Galleria, Sforza Castle where the Dukes of Milan once held court and the famous La Scala opera house, dating back to the 18th century. Our hotel is in the extensive pedestrian zone a few blocks from the Duomo.
DAY-TRIPS:

LAKE COMO: Mention this lake to any American and chances are, their eyes will light up and they'll say "George Clooney!" Lake Como has so much more to offer than just celebrity sightings! From charming Varenna to glitzy Bellagio and decadent island villas, we will have a grand time on this escorted tour.