About Dennis and Tours by Train
Our tours are organized and conducted by Dennis Callan, who has been leading trips to Europe and elsewhere for 30 years. This experience guiding 80 different groups through Europe and elsewhere has provided valuable insights into what people enjoy and what they could skip in their visits.
Dennis has been on the road for much of his life and shares his adventures on television, in print, and on tour. His first eight years as a military dependent kept him moving from Ohio to Long Island, then to London for 3 years, to California, and back to Long Island.
After graduation from Brown University in 1967 with a degree in English Literature, he moved to Hawaii and has been there ever since, living in Honolulu with his wife June.
Dennis earned Master of Science degrees in anthropology and political science at the University of Hawaii in the 1970s. He did further studies there in journalism and urban planning, followed by sales and marketing work in the early 1980s. Then, in 1985, he experienced a life-changing trip to Europe -- traveling six weeks on a eurail pass, shooting 3,000 slides, and coming home to launch a career in travel.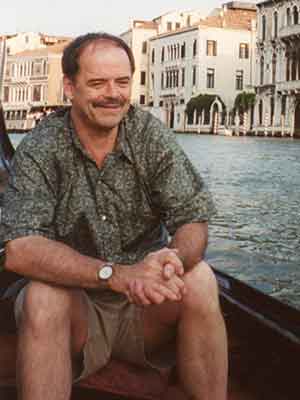 Dennis wrote a monthly travel series in the Honolulu Star-Bulletin, creating 55 detailed articles about how to spend three days in some of the world's most wonderful destinations. You can read the newspaper travel articles here, which are still handy guides for your trips. This series served as the basis for several travel books he wrote, including Rome on Foot and a brand new picture guidebook about the Netherlands. Dennis also learned web design in order to share and update information about the tours and videos. His other web site, tourvideos.com features 1350 travel movies he has created about Europe and other parts of the world. These short films are posted on YouTube where they are freely available for all to enjoy.
Dennis has been president of the Hawaii Geographic Society since 1986 and led his first two Europe tours in 1987. Since then he has formed his own travel company and conducted over 80 tours throughout Europe, as well as 9 tours in the Americas, doing most of the lecturing and coordinating the logistics while shooting video along the way. During his non-travel time he keeps busy producing the videos for his travel series on YouTube and shown on local cable TV -- honored as the longest-running program (thirty years) on Hawaii's Community Programming. His photographic work has been recognized with an exhibit at the Honolulu Museum of Art, a Grand Prize in Honolulu Magazine, showings at numerous art exhibits and publication in local books, calendars and magazines.
People sometimes ask Dennis, how did you get such a great job and how can I do it, getting paid to travel and make movies? The answer: a lot of work, a little talent, much luck, good education, and life-long travel (see above). What follows is a particular series of unusual events and activities that somehow led Dennis to create his life's work.
Photography was always a passion since childhood and became the single most important ingredient in creating the travel business, starting with public slide shows about his travels, where he gained some publicity (and first met his future wife). A crucial event was being accepted for a one-man photo exhibit at the Honolulu Museum of Art, which allowed him to put travel flyers in the museum lobby to promote his first group tour in 1987. Those initial sparks were the beginning of a 30-year travel career. It also helped to have a close friend with a small travel agency in Honolulu, making air, rail and hotel bookings, which Dennis now takes care of directly.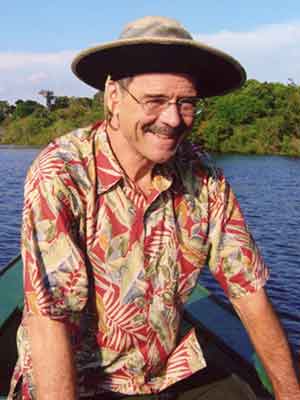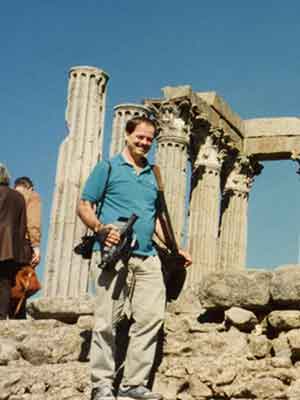 Shooting video of the tours he was leading gave Dennis material to create a travel series on local public access TV, back in the 1980s when no other travel programs existed, before today's hundreds of television channels and internet offerings. He also continued presenting travel talks at public libraries, dragging around two big old CRT televisions and two slide projectors in his little station wagon. An audience slowly developed and the travel biz began to take off, assisted by occasional ads in the local newspaper travel section (another promo-option no longer very effective). Previous experience in sales and marketing was invaluable in helping the business plan.
Before the days of Travelocity and Expedia it was not easy for people to plan complicated trips, even within America, so Dennis was able to create a range of domestic and international tours that took care of all the logistics, with him leading the charge. Even today, it would be very difficult for an independent traveler to design a comprehensive itinerary like we offer, then be able to get around on their own, walking through complicated cities, finding the best sites without wasting time and energy, and riding trains to get from one place to the next. It also helps to have a leader who is friendly, outgoing, concerned, who listens to people, all of which make the tour function smoothly. Another crucial element Dennis has developed with experience is detailed knowledge about the destinations -- history, architecture, restaurants, walking routes, museums, shopping tips, best affordable hotels in central location, logistics of train travel, and not getting lost.
Leading tours and making travel videos was a part-time activity in the first 5 years, enabled by holding a nearly no-show sales job, then became a full-time obsession for the next 25 years, spending 50,000 hours editing video creating a total of 1,200 travel videos that have gotten 40 million viewings on YouTube and attracted 100,000 subscribers. It has been very gratifying to be the tour guide helping people have a wonderful experience, sharing it with them directly and seeing the happiness and wonder in person, and then reaching millions in the international audience who have been enjoying the videos. The videos and travel writings always have the dual function to entertain and train, helping people choose and properly explore destinations, squeezing the most out of those magical opportunities.
Take a look at our video web site, www.tourvideos.com for a well-organized list of our movies. The videos focus primarily on Europe, but much of the rest of the world is also featured, especially including South and North America, Egypt, Turkey, Japan and Southeast Asia.
You can read more in a magazine story and a newspaper article.
The train tours provide an excellent combination of activities that are entertaining and educational, visiting Europe's most wonderful places. Our tours stay for two or three nights in each city to deliver an in-depth authentic experience. Detailed walking tours are provided to give you direct contact with the sights and people, for we feel that walking is the best way to experience each place. We always stay in fine hotels in the historic centers, which enables you to experience the cities by just stepping out your front door.
Seeing Europe by Train is a much more in-depth experience than traveling by tour bus, or taking a cruise, as you can read about in our detailed comparison page. Back in 1987 when we first began leading tours we did go by tour bus and found it was not nearly as nice as the train travel we had previously experienced during independent travel. After comparing those journeys Dennis decided to launch a Europe train tour in 1990, which was a big success. You can see from the many comments on our site, people love these tours.
We have selected Europe's most wonderful places and we stay for two or three nights in each of them to deliver an in-depth authentic experience. Detailed walking tours are provided to give you direct contact with the sights and people of, for we feel that walking is the best way to experience each place. We always stay in fine hotels in the historic centers of the places we visit, which is extremely important, for this enables you to experience the cities by just stepping out your front door.
Our train tours are the best way to see Europe. Even if you have been there before, our tours are so in-depth you will discover many new sights. The end result is that our trips are educational and a lot of fun. You will get a true feeling for what Europe is all about by the time you get home. During the tours you will be learning about history, art, architecture, and how the Europeans live today. You will also have free time for personal activities like shopping. If you are not much of a shopper, your escort is always there to suggest other touring activities and help you do things.
We are there at all times to help you get the most out of this experience. Each trip has a very efficient sequence of things that we see and do each day. You will find our train tours are much different than the typical bus tour or cruise, for we take the time to see the sights properly, instead of rushing madly from one place to the next, changing cities every night the way typical bus and cruise tours do. The trains of Europe provide comfort, luxury and a panoramic view, while traveling quickly to each destination during the daytime. Once we got rid of the bus and replaced it with the deluxe comfort of Europe's first-class train service, we found that everything changed -- a new world of travel opened up for us. Now, we didn't have to keep up with the frenzied schedule and we could stay put for several days in each destination to really see the sights.
We worked hard to create a better way for a group to see Europe, and developed this unique alternative: Europe by Train. It has worked out amazingly well. Our travelers have really enjoyed this approach, as you can see from their comments in our web site.
Dennis credits his ability to record and describe the world, and his energy to produce so many movies, to his varied background that has toughened him up and taught him many lessons. Just for fun have a look at his 47 work experiences:
Selling candy door to door (age 12); Selling raffle tickets door to door; Selling Christmas trees door to door; Mowing lawns; Shoveling snow; gas station attendant, Long Island; McDonald's counter boy; Candy factory worker; Sunday newspaper home delivery; Carnival merry-go-round operator; La Guardia Airport landscaper; Port of NY Authority office clerk; Brown Univ cafeteria busboy; gas station attendant, Providence; Hospital landscaper; Newspaper delivery to news racks; Lifeguard; Jones Beach maintenance; Southampton College security guard; Bartender at the bar Vanilla Fudge burned down; Cocoa Beach pool hall clerk; Hilton Hawaiian Village busboy; Outrigger Hotel parking attendant; Bookstore salesclerk; American Airlines airport ticket agent; Sunbums reporter; Ka Leo reporter; DOE substitute teacher; Pacific Laundry truck driver; Lanikai house gardener; Secret shopper at bars; Kahala house gardener; Kahala groundskeeper; UH anthropology teaching assistant; Honors Notes writer; UH summer archeology supervisor; Bishop Museum archeologist; Commercial photographer; Oceanic Cable public relations and production; Hawaii State Senate legislative researcher; Life of the Land community organizer; KIS Photo equipment sales; Oceanic CableTV outside sales; [previous were prior to 1989]; after 1989 he settled into his travel career: Travel agent – tour conductor; Star Bulletin freelance travel writer; Book author; Travel filmmaker.