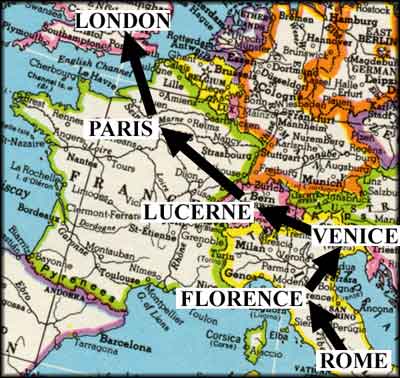 ROME to LONDON
We are not currently scheduling this trip, but instead are providing full descriptions of the tour on this site for your information, to help you plan your own trip. With the detailed descriptions here you can do the trip yourself following this detailed itinerary.

It is not difficult because you will be taken care of with efficiency and friendliness in the hotels, trains, restaurants, shops and on the street. We have carefully planned and conducted this tour many times and are now giving away the secrets of how you can do this tour on your own. Go for it.
This detailed story about the Rome to London train trip provides an accurate idea of what the experience is all about. It describes the events of each day as they happen, like a diary or scrapbook of the tour. You will see we have created the "trip of a lifetime" and developed an excellent way for you to discover Europe!
Watch a 4-minute tour summary here: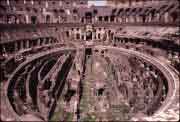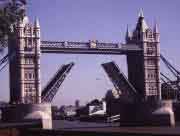 ROME to LONDON Summary of Itinerary
Day 1: ROME morning arrival, hotel check-in. 12-4:00pm rest and lunch 4-6:00 pm orientation walking tour
2: ROME Capitoline, Forum, Colosseum. Afternoon at Vatican Museum.
3: ROME walking tour in the historic center. Afternoon Galleria Borghese, Via Nazionale.
4: FLORENCE 11am arrival at hotel. After lunch, walking tour, Duomo, Signoria, Ponte Vecchio.
5: FLORENCE Visit the statue of David, optional trip to Pisa.
6: VENICE Morning train to Venice. Orientation walk. After lunch, walking tour with our local guide.
7: VENICE 9am walking tour with your escort, gondola ride. Afternoon free.
8: train to LUCERNE scenic ride through the Swiss Alps. 4:30-6:00pm orientation walk in Lucerne.
9: LUCERNE morning option to the top of the Alps at Mount Titlis. Afternoon Optional train trip to Zurich.
10: Lucerne optional train ride to the Jungfrau and Interlaken.
11: to Paris on high-speed TGV train. Walking tour to Notre Dame and Left Bank, bus tour.
12: PARIS morning visit to Versailles, Louvre Museum, walk to Opera.
13: PARIS walk along Champs Elysees, Marais, Orsay, evening boat ride on the Seine.
14: London morning train under the Channel to London. City Tour on bus, Tower of London, boat ride on Thames.
15: LONDON morning walking tour of central London, Changing the Guards, National Gallery of Art.
16: LONDON morning walk on The Strand, British Museum, Westminster Abbey.
17: FLY HOME arriving same night.
You will find this tour by train is much different than a bus tour, for we take the time to see the sights properly, instead of rushing madly from one place to the next, changing cities every night the way typical tours do. We have selected six of Europe's most wonderful places and we stay for two or three nights in each of them to give you a good look around. About ten years ago we did conduct several bus tours throughout Europe and were very dissatisfied with that approach. The tour moved through these places too quickly, and the bus was just not very comfortable, especially when you had to sit in it for an average of six hours every day. We looked at other Europe tours and found they were all the same — stuck on the bus, changing cities every day, using hotels far from the center of town. The result was a very superficial tour that was extremely tiring, and really did not show you very much.
We worked hard to create a better way to see Europe, and developed this unique alternative: Europe by Train. It has worked out amazingly well. Our travelers have really enjoyed this approach, as you can see from their comments in this brochure. Once we got rid of the bus, and replaced it with the deluxe comfort of Europe's first-class train service, we found that everything changed. A whole new world of travel opened up for us. Now, we didn't have to keep up with the frenzied bus schedule, and we could stay put for several days in each destination and really see the sights.
We really feel this train tour is the best way to see Europe. Even if you have been there before, our tour is so in-depth it will show you many things you have missed the first time around. The end result is that our trip is educational and fun. You will get a lot out of it and gain a feeling for what Europe is all about by the time you get back home.
During the tour you will be learning about history, art, architecture, and how the Europeans live today. You will also have free time for personal activities like shopping. If you are not much of a shopper, your Hawaii escort is always there to suggest other touring activities and help you do things. We are there at all times to help you get the most out of this experience. So come along with us now and discover what this tour is all about. Day 1 and 2: fly to Europe -- we have an excellent routing on United Airlines.
ROME
Day 1: We arrive in Rome in the morning and transfer to our hotel for check-in and lunch. It feels great to shower, change clothes and rest for a while. We stay at the Hotel Tiziano, located in the midst of Rome's historic center, just five minutes walk from the Piazza Navona and the Campo dei Fiore.
One of the main attractions of Rome is its incredible art history, rich in ancient architecture, impressive churches, great museums, renaissance paintings and sculpture. Modern Rome also offers a great deal for the visitor, with the many contemporary shops displaying fashion and design, and the world-famous restaurants. During our stay here you will have ample time to choose your own things to see, and we will also provide several walking tours and many suggestions to help you get the most out of your time.
Our first walking tour brings you to the Piazza Navona, with its picture-postcard perfect St. Agnese Church, and stunning Fountain of the Four Rivers by Bernini — an artist we will encounter several more times in Rome, for he was the greatest of all the Baroque sculptors and architects. This Piazza is considered one of the most beautiful and lively outdoor spaces in the city, and you will probably return here on your own, for it is interesting night and day, and just minutes away from our hotel.
From here we walk two short blocks to the best-preserved ancient building in Rome — the Pantheon. This is a perfect structure, still standing with its great dome intact after one thousand nine hundred years. It was the largest dome in the world until this century, and forms a spherical room. It was designed by the emperor Hadrian in A.D. 125, and has served a variety of historical functions over its many years. It is situated on the Piazza della Rotunda, which offers several outstanding cafes and restaurants, and a beautiful fountain with Egyptian obelisk.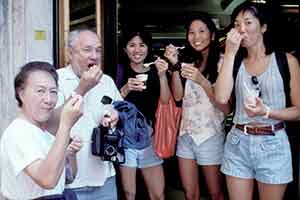 A good timefor our first refreshment of the walk — perhaps some rich Italian ice cream around the corner at Giulitti's, the city's best gelateria, or have an espresso at Café D'Oro, reputedly the best in town. We walk to another incredible church, St. Ignazio, with its illusionistic ceiling mural painted during the 17th century by Pozzo, in a three-dimensional perspective that will truly amaze your eyes with its vivid realistic depiction of the heavens opening above. Notice the stage-setting quality of its small piazza in front.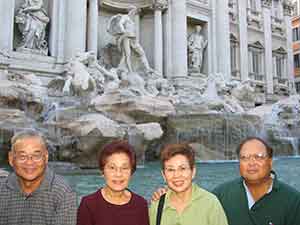 A few blocks away is the spectacular Trevi Fountain, made famous by the movies and arguably the world's most beautiful fountain. We walk a few more blocks to the Spanish Steps and its lively piazza, to settle in for dinner in any of a dozen fine restaurants in this neighborhood. If you are still up for a walk we'll stroll back to our hotel through the inviting evening lanes of the historic center, or if this day has caught up with you, just peel off and hop in a cab at any time during the walk and you're home with no effort at all. Tonight you will probably sleep well and readjust your biological clock to European time.
Day 2: Our morning city tour will take you to some of the most important highlights of Rome, including the Roman Forum, the Colosseum and many other important landmarks, explaining their history and significance. In the afternoon we visit St. Peters, the most spectacular church in the world, and walk through it with your guide who will explain many of its features. During this tour you will have an optional chance to visit the Vatican Museum, or you can have the afternoon free to go shopping or pursue your own interests. For those going to the museum, you can have a convenient lunch right in the Vatican cafeteria, and then your Hawaii escort will guide you through this huge museum, bringing you to the most important art works. The grand climax here is the breathtaking ceiling of the Sistine Chapel, painted by the greatest of all renaissance masters, Michelangelo.
This evening, after a rest at our hotel, step out for dinner, Roman style! Numerous trattorias abound in the side streets near the hotel, and after dinner take a walk in this colorful neighborhood for more great evening sights, and some further refreshments.
Day 3: Next morning we will take you on another walking tour of Rome that will show you some of the most fascinating and historic neighborhoods, and then later in the afternoon you can relax, and shop in the area near the hotel. The walk will begin at the Campo dei Fiore, a colorful market that has been in business for three hundred years. Its fruit and vegetable stands are quite popular with the local residents, and you will even find some clothing stalls and souvenirs scattered among the local wares. Nearby is the Palazzo Farnese, one of the most famous renaissance palaces of the city, currently housing the French Embassy. We visit these charming narrow streets along Via Giulia and experience the heart of historic Rome.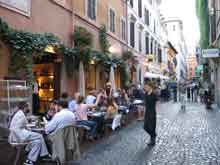 We then walk a few minutes to the Chiesa Nuova, elaborately decorated in the high baroque style, and then on to the Ponte Sant'Angelo, the lovely bridge across the Tiber with baroque angels carved by Bernini. Walking the cobblestone ancient lanes in this quiet neighborhood will be one of the most interesting experiences of our entire European tour. We will see artisans working in shops unchanged for centuries; fruit and flower stands for the local residents; many attractive restaurants; little fountain faces popping out of walls; stray cats prowling the alleys; ivy-covered brick walls 400 years old.
This afternoon is free for you to pursue your own interests — perhaps shop on the busy Via del Corso or visit another one of the many museums, or simply walk through the quiet lanes of this amazing place. [back to top]
FLORENCE
Day 4: We travel to Florence by train in the morning, enjoying a scenic 90-minute ride through the farmlands of Tuscany. You will find that traveling by train is a very comfortable way to go. Our first-class cars are air-conditioned, so they are cool and quiet, making for a most enjoyable ride. You can bring snacks on board, or eat in the dining car, or just relax and talk with your travel companions. The train is also a place to meet some local Europeans, most of whom speak enough English to communicate with you. The train goes faster than a bus, and doesn't have to stop for traffic, or toilet breaks, so you arrive at your destination sooner and more refreshed. This is one of many differences between our approach and the standard bus tours.
We will explore this fine art capital and see many amazing and beautiful sights. You will see how Florence became the birthplace of the Renaissance and visit the places where these artistic developments happened in the late 15th century. Our is located in the middle of the city, making it very easy for us to explore the many historic attractions, shops and restaurants. After checking in and having lunch we will go on a walking tour with our local guide, covering many of the important sights.
We visit inside the great Duomo Cathedral, with the world's third largest dome, completed by Brunelleschi in 1434, which many consider to be the event that began the Renaissance. After appreciating Giotto's Bell Tower and the Baptistery, with its "Gates of Paradise" doors carved by Ghiberti, we walk the few short blocks to the Piazza della Signoria, with its many statues, and the noble architecture of the Palazzo Vecchio.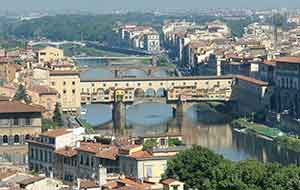 After the walking tour, take a city bus ride to Piazzale Michelangelo, a wonderful hillside attraction that offers stunning view across the city on the other side of the Arno River. This is the one of the world's great panoramas, so it is worth it, and the bus ride getting there takes us through interesting residential neighborhoods. The vista takes in the full span of Florence, spreading below you in a sea of clay tile roofs, punctuated by many domes, towers, bridges and framed by hills in the background, with the commanding presence of the great Duomo rising above all. A full-size, bronze copy of Michelangelo's David stands in the middle of the square, surrounded by a small army of vendors selling snacks, film, t-shirts and other souvenirs to the many visitors who will be sharing this popular view.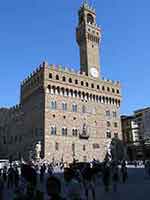 It only takes fifteen minutes to soak up the scene, but this brief expedition is most rewarding. When finished we take a very pleasant walk downhill that leads to quiet lanes along the river, and then to the Ponte Vecchio, which you can reach in fifteen minutes. This will lead us to an optional visit to the Pitti Palace, the former home of the Medici rulers. It was the largest palace in Europe before Versailles was built outside of Paris. In the afternoon you could enjoy an optional visit to the Uffizi Gallery, which contains the finest collection of Italian renaissance art, with masterpieces by Leonardo, Michelangelo, Botticelli, Bellini, Mantegna, Raphael, and so many more geniuses.
The rest of the day will be free, perhaps for shopping, and the evening is free to relax and dine. The Straw Market is fun for shopping, as is the huge sidewalk market by the Church of San Lorenzo, just one block from our hotel! Across the Arno River you will find interesting old streets for walking, further away from the tourist center, with lots of antique shops and modern boutiques with the latest fashions.
Day 5: This morning we can see Michelangelo's David. Yes, this one piece is worth the short walk over to the Accademia Gallery. He stands 18 feet tall, a perfect marble figure ready to strike down the giant. Again, we have learned that the lines during the day are too long, but the gallery is open early, so we time our arrival to walk right in without waiting.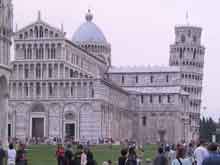 PISA: We have covered the important highlights and still have most of the afternoon free to consider an excellent excursion this afternoon to Pisa to see the Leaning Tower of Pisa. We can easily get there in an hour from Florence directly by train. Be sure to also visit the magnificent Romanesque cathedral and baptistery, which too many day-trippers overlook in their rush to see the tower and get back on the bus. Another advantage of going by train is that you can take your time in this "Field of Miracles."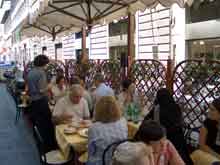 The streets of Florence will also keep you entertained, with their many colorful people, cheap sidewalk vendors, musicians, ancient buildings and many, many restaurants. The high quality leather stores will especially tempt you, with their designer shoes and handbags. Every corner you turn in Florence offers another glimpse of history. If you want to do some serious shopping, we can show you where the designer boutiques are located, and the jewelry shops. If you just want some small leather items, the numerous sidewalk stands have low prices on a variety of wallets, belts, lipstick holders, bags and souvenirs of all kinds. [back to top]
VENICE The Most Serene Republic
Day 6: We take the morning train from Florence directly to Venice, arriving around noon. Venice is the city of canals and gondolas, city of dreams and music, city of cafes, with endless labyrinth of narrow alleys, classic ancient brick buildings, five hundred bridges, and a million tourists drawn by its compelling charms. We will get beyond the stage front of Piazza San Marco, to find glimpses of this unique city's true character. Don't worry about getting lost. Venice is a relatively small town, so just absorb the overwhelming beauty and enjoy yourself.
We will have two nights and days filled with magic here in the queen of the Adriatic, seemingly adrift at sea, yet anchored to a hundred little islands connected by marble masterpieces. Following check-in and lunch on this first afternoon we have an informative walking tour with our local guide, through the historic heart of the city, and ending up at the Piazza San Marco with a visit inside the 12th century Basilica. Later, you might consider a boat ride to the nearby islands of Lido, Murano, or San Giorgio.
Tonight is free, perhaps for a memorable dinner outdoors at a sidewalk café. You don't have to order four courses -- you can save your budget and your waistline with a salad and entree. Afterwards, have a drink and listen to a string quartet at 250-year-old Café Florian in Piazza San Marco, so peaceful at night. If you would like to hear some classical music, you are in luck, for there is a concert nearly every night by a chamber orchestra in one of the town's historic churches.
Day 7: We will lead you on another fascinating walking tour, through the Rialto, along a local shopping street, to the Frari. This is the best way to enjoy Venice, walking away from the main areas, experiencing the back streets, looking at building details, stopping at the top of little bridges and looking up and down the canals.
In the afternoon you are free to wander on your own, or come along on another walk to see some quiet residential areas, narrow canals, with more churches, palaces and museums. The shops of Venice offer a wide variety of top goods, famous for glassworks, lace, fashions, shoes, and souvenirs of all kinds. You will find that the center of Venice is one big shopping mall, but it's more rewarding when you get away from the tourist shops and into the neighborhoods with local residents. This is easy for us because we spend two days in Venice, and have time to see it well.
You can get back and forth across the Grand Canal on the Accademia or the Rialto bridges, but a more interesting way is to cross on gondola ferries called traghettos. If you are going from one side of town to the other, take the water-bus called the vaporetto. You buy the ticket for about $66 at the boat docks, which are scattered along the Grand Canal.
There are many fine small restaurants scattered around Venice. We will point out our favorites within a few blocks of the hotel and provide you with a handy map that shows their locations. As in all of our cities, the hotel is well-located so there are many excellent food choices nearby in a wide range of prices, from gourmet to cafeteria.
There could be no better way to cap off our visit than with a sunset gondola ride — a guaranteed peak experience. Your gondolier rows this unique black boat through the little back canals to show you the peaceful neighborhoods where locals reside.
Most tourists who visit Venice miss out on the real authentic experience, because they are in such a rush to get back to their tour bus. All they see on their brief day-trip is the Piazza San Marco, and maybe a quick gondola ride, then they rush off to the next city on their hurried itinerary. They "saw" Venice, but missed the heart and soul of the place.
Our approach is totally different. We stay in Venice in a lovely hotel for two nights, and provide you the walking tours and tips for getting the most out of this precious jewel of a city. This typifies our procedure for the entire tour, where we give you enough time and assistance in each city to enable you to enjoy a rewarding experience. [back to top]
LUCERNE
Day 8: At the mid-point of our trip we travel from Venice to Lucerne, through the majestic Swiss Alps. We travel in our deluxe train all afternoon on one of the most scenic rail lines in Europe, into the heart of the Alps. Keep your eyes glued to the window, and watch for the little village and hilltop church we pass three different times as the train winds down the mountain.
We arrive in Lucerne and check in to our hotel. We have three nights and days in Lucerne, the most popular city in Switzerland, famous for its well-preserved Old Town, consisting of blocks of medieval buildings richly decorated with painted murals showing life in the old days. The banks of Lake Lucerne offer a most picturesque walk, through manicured gardens, past picnickers, swans, fishermen and bobbing boats. First up, we enjoy an afternoon walking tour through this historic town, including the famous Lion Monument.
In the heart of Lucerne is its major landmark, the 560-foot long Chapel Bridge, or Kapellbrucke, the oldest covered bridge in Europe, first built in 1333. Adjacent to the bridge is the 110-foot high Water Tower, also nearly 700 years old, the most photographed image in town. The Mill Bridge is a smaller covered bridge two hundred yards south along the river, built around 1408, which also served as part of the medieval fortifications surrounding the town. The old wall still survives from the Middle Ages, built around the same time as the two bridges, between 1350 and 1408. Called the Musegg Wall, it has nine towers, three of them open free to the public, offering great views looking down on the town.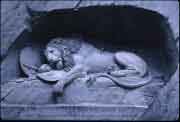 We visit the Lion Monument, carved deeply into the sandstone cliff to commemorate the 1792 death of 786 Swiss mercenary soldiers that were trying to defend King Louis XVI in Paris. Completed in 1821, it depicts a mortally wounded lion, regal but dying from a spear thrust in the ribs, making a tragic statement of historic pride carved in stone. Mark Twain toured Lucerne and called this "the saddest and most moving piece of rock in the world."
As you stroll you will discover cobblestone lanes for pedestrians winding past ancient buildings with modern shops inside, spotlessly clean and well organized. This is the land of efficiency and charm, with very friendly people, offering the best of both worlds, old and new. The extensive pedestrian zone is filled with interesting shops and restaurants, street vendors and musicians, plazas, flea markets, and fine restaurants, especially along the Reuss River promenade.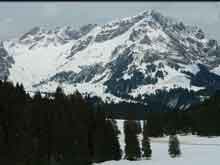 Day 9: This morning we enjoy an optional excursion out of town is to Mount Titlis, where you get a chance to frolic in the snow in a glacier at the top of a mountain. We will take you on this scenic train ride through a beautiful Alpine valley to Engelberg, and there we transfer to a series of cable cars that take us to the top of a mountain covered with snow. It is not that cold, so you just need a light jacket to stay comfortable. You'll enjoy beautiful views of the mountains, farms, and villages along the way.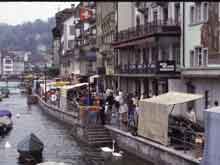 We will be back in town by mid-afternoon so you can shop around or take an optional train ride to Zurich and explore the extensive Old Town. Or perhaps you'd like to stay and explore Lucerne, a town filled with interesting shops and things to see, you can easily fill your time just wandering its cobblestone streets, window-shopping for music boxes, chocolates, watches, cuckoo clocks, cowbells, beer steins, hand-carved wooden statues, costumed dolls, cheese, knives, embroidery, linens, music, and you can also find very good deals on clothing. [back to top]
Day 10: We take anpther optional excursion out of town, this time to the top of the Jungfrau, one of the most spectacular journeys in all of Europe. Also we take time to see the town of Interlaken, then return at night to Lucerne. This is a big full day adventure.
PARIS
Day 11: Following a leisurely breakfast in Lucerne at our hotel, we board the train for a scenic ride to Paris, arriving on the high-speed TGV train in the late afternoon. This French TGV travels at speeds up to 165 mph, but you don't realize you are going that fast as the ride is smooth and steady. We will stay in Paris for three nights, which gives us time to have a good look around at the most important sights. Our itinerary here is carefully planned so that you will get the most out of this opportunity to explore one of the world's most beautiful cities. Our hotel is walking distance to many of the top attractions of the city.
After hotel check-in we will have a walking tour of some charming byways of the Latin Quarter, and enter the world's most beloved Gothic cathedral, Notre Dame. We will also walk along the Ile St. Louis, a historic neighborhood on an island in the middle of the River Seine, with some of the oldest shops and mansions in the city. Here we can enjoy a refreshing snack at Bertillon, the most famous ice cream parlor in the city. The narrow old-fashioned streets of the Left Bank on the other side of the Seine are sure to please. These busy Latin Quarter streets of Paris, with their quiet neighborhood markets and charming tree-lined plazas, are terrific for people-watching and shopping.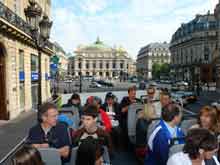 We then hop on our tour bus and begin a lovely ride on the open-top bus, or sit down below if you prefer windows. This two-hour bus tour provides the Big Picture of this huge complicated city. Driving around will put things in context and help you plan your own priorities for attacking the sights in more detail later. The bus tour itinerary will bring us past most of the city's important places, including the Place de la Concorde, the River Seine, the Arc de Triomphe, the Eiffel Tower, and the center of town at the Place de l'Opera. It is especially nice to do the ride in late afternoon/early evening for that magical lighting.
Day 12: On our second morning in Paris we start with a 30 minute train ride to Versailles, the extravagant 2,000 room palace famous for its "Hall of Mirrors" and classically landscaped formal gardens. Versailles is considered the most beautiful palace in all of Europe, richly decorated with gold trim, ceiling murals, many statues, and lush fabrics of all kind. The visit is quite easy, following through the formal reception rooms of the king to the famous Hall of Mirrors, one of the most spectacular rooms you will ever see. It has been recently renovated and sparkles with all of its original glory intact. The walk continues through five more rooms that had been used by the queen, and then exits onto the vast courtyard. From here we easily walk back to the train station for our 40-minute journey back to the center of Paris.
Upon returning to town in the afternoon come along on a visit to the Louvre Museum, the most important shrine of the art world. Enter through the controversial new glass pyramid to spend several hours in admiration and contemplation of highlights from this immense collection that would take one year to see if you really studied the details. Your escort will bring you right to the most interesting and important pieces so you don't get too lost in this million-plus assemblage of the world's greatest creations.
After the museum visit you are free to shop around in this center of fashion and design featuring many small boutiques, art galleries, antique shops, and specialty shops of all kinds. Exit the Louvre onto the busy street called Rue de Rivoli to begin your personal explorations. You will be instantly rejuvenated by the wonderful arcades lining this grand boulevard, which offer outstanding tourist souvenirs, like t-shirts, scarves, little Eiffel Towers, things that say Paris, postcards, perfume, chocolates, ceramics, etc. etc. A one-hour extension to this walk is to continue along the Rue St. Honore, which is just one block in from Rue de Rivoli, and is filled with some of the finest boutiques in town. Carry on to the Place Vendome, and then power through to the Opera Square, two blocks beyond. Behind the Opera you will find the two big department stores, Galleries Lafayette and Printemps, plus many other smaller stores in this prime shopping neighborhood. We can continue walking along the Grand Boulevards heading back in the direction of our hotel, which will bring us on a delightful stroll on Rue Montorgueil, a charming pedestrian zone lined with restaurants.
MONTMARTRE: An excellent optional way to end the day is with an evening trip to Montmartre. We take the metro and then walk to the foot of the hill and ride the funicular to the top of Montmartre for a view from the highest point in the city. On top you will see the spectacular white domes of Sacre-Coeur Church, but you have really come up here to visit the little artist's square called Place du Tertre, which is truly a postcard come to life. It is filled with tourists, but we all come for a good reason -- this is a slice of the 19th century with cute shops and colorful outdoor restaurants. Twilight is the best time to be here. It's the end of your second day and already you have seen a large chunk of Paris -- but there is more yet to come so go home and get some rest.
Day 13: Another full day in Paris, and we have big plans for you. Champs-Élysées: We begin our third day in Paris with a short metro ride to the Arc de Triomphe and then stroll along the Champs-Élysées, the grandest boulevard of town. You already saw this famous arch from your tour bus the first day in Paris, but it is fun to see it up close and snap some pictures. Traffic is so crazy here at the 12-sided traffic circle, Place de l'Étoile, that any collision as automatically considered 50-50 blame on both parties. Use the underground passage to get across. Now we are in fine position for a lovely stroll along the Champs-Élysées, with the widest sidewalks in town, nicely planted with trees and lined with fine shops, cafes, theaters and showrooms. This leisurely walk is slightly downhill making for a very easy excursion, and then we duck back into the metro at George V station to speed along to our next destination.
The plan is to ride the metro across town to the Marais, the oldest Parisian neighborhood, and stroll through the Place des Voges and along the narrow lanes of this historic district. For lunch we can have falafel, or crepes, or sandwiches at various sidewalk eateries, quite delicious and inexpensive. Later this afternoon you are free to explore on your own, or come along with us to see one of the finest collection of impressionism at the Orsay Museum.
This evening we enjoy an optional boat ride on the River Seine, which shows many of the most famous monuments illuminated in the twilight, from the unusual angle of the Seine river including Notre Dame, the Eiffel Tower, the old Conciergerie, and the Pont Neuf -- an impressive way to conclude our stay in Paris.
LONDON
Day 14: In the morning we travel to London, going under the English Channel in the high-speed Eurostar train. London provides a grand climax to our experience for it is the favorite city of most American travelers in Europe. Upon arrival we check in to our hotel one block from Trafalgar Square in the heart of town, near Piccadilly Circus and Covent Garden. Your Hawaii escort will take you on an orientation walk to show you the attractions of this neighborhood around the hotel in the heart of London.
Leicester Square, just two blocks from the hotel, is one of the most exciting centers of London. We then walk a few blocks over to Covent Garden, filled with unique shops, restaurants, lots of sidewalk entertainment, marvelous buildings and vast pedestrian zones. Then we conclude our walk with a look at Soho, walking along Old Compton Street, and then through the small Chinatown and back to our hotel.
In the afternoon, following lunch, we have a panoramic city tour on a comfortable motorcoach, passing the Houses of Parliament, Big Ben, Trafalgar Square, St. Pauls, Tower Bridge and highlights of the West End. After the bus tour we visit the Tower of London, the huge castle on the Thames, which is the oldest building in London, dating back to 1078 when William the Conqueror began construction. It is a complete delight, not only for the Crown Jewels, but for the entire experience. The White Tower is the oldest building of the castle and has a spectacular, multi-level display that has just been completed after many years of renovation, featuring suits of armor and historic weapons, with informative signs and video displays.
This evening you could take in one of the hit musicals or comedies in the exciting theater district along Shaftesbury Avenue, just two blocks from our hotel. It is easy to get half-price tickets because the discount booth is near our hotel in Leicester Square. We are in the theater district, with about 40 plays going on at any one time in a six block-wide neighborhood called the West End. Comedies, musicals and dramas are available every night, so take advantage and go for it.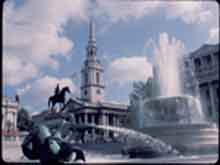 Day 15: This morning we have a comprehensive walking tour through some of the most interesting parts of town, visiting Piccadilly Circus, St. James, Chinatown, Soho, and ending with the Changing of the Guards at Buckingham Palace. This will bring us through grand examples of the finest urban architecture, and past many fine shops along the way.
We then arrive at the famous Changing the Guards ceremony. The pomp and circumstance of this ritual is great fun, with the redcoat soldiers in their tall black hats parading to the bouncy rhythm of a marching brass band. We get to St. James Palace for the first phase, then stroll through beautiful St. James Park to arrive at Buckingham Palace just in time for the climax of the event, watching the big marching band going by.
The afternoon is completely free. You will easily find many wonderful things to do in this great city. We shall lead art lovers in a visit to the National Gallery, one the world's great art museums, one block from our hotel on the north side of Trafalgar Square. Even if you are not a major art fan, you would enjoy a look at the great masters.
Day 16: This morning we enjoy a people-watching meander along The Strand, a major street at rush hour to see crowds of natives walking to work. It will be a fascinating parade of Londoners heading to the office. This busy road has various theaters, shops, restaurants, and tempting side lanes.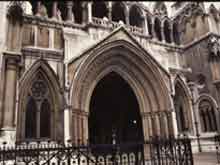 Detouring into the campus-like Inns of Court provides a peaceful break, with gardens, fountains and 17th-century brick buildings housing lawyers and judges. Next, we walk several more roads taking us into Bloomsbury, whose centerpiece is the British Museum, one of the world's great history museums. It opened in 1759, and has just completed a major expansion with creation of the huge indoor Great Court and special exhibition galleries.
BRITISH MUSEUM The British Museum is one of the oldest museums in the world. The ancient Greek and Egyptian collections are the main treasures, especially the Elgin Marble statues from the Parthenon in Athens and the vast number of mummies, colossal statues and jewelry from the ancient civilization of the Nile. You will also find interesting displays about the Romans in Britain, ancient Assyrians, Celtic prehistoric life, and the Middle Ages. A good visit could be completed in 90 minutes, and admission is free, so this is a very attractive activity.
After the museum you will be back on the busy shopping streets of Central London with several tempting destinations on hand. Two blocks west you will find the lively intersection of Oxford Street and Tottenham Court Road. Resume your walking tour by heading south through this same intersection where Tottenham Court changes name and character to become Charing Cross Road, a famous literary street with many bookshops. This wonderful street for strolling leads back into London's most interesting neighborhoods -- Soho, Covent Garden and Leicester Square -- which are in full swing by mid-afternoon and stay lively all night.
You will also have time for Westminster Abbey, one of the finest Gothic churches in the world, impressive as Notre Dame in Paris. Edward the Confessor began the building around 1050 and large-scale expansion commenced in 1245, with major additions made during the next 500 years, resulting in this astonishing harmonious complex.
This afternoon is free. You might want to visit Harrods — perhaps the world's greatest department store. That covers all the important sights for three days in London, and completes your incredible tour of Europe by Train!!!!
Day 17: fly home filled with memories of an incredible trip.