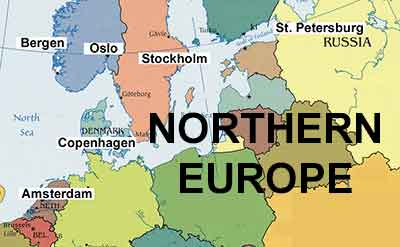 NORTHERN EUROPE:
Copenhagen, Denmark
Bergen & Oslo, Norway
Stockholm, Sweden
St. Petersburg, Russia
Amsterdam, Netherlands
We are not currently scheduling this trip, but instead are providing full descriptions of the tour on this site for your information, to help you plan your own trip. With the detailed descriptions here you can do the trip yourself following this detailed itinerary.

It is not difficult because you will be taken care of with efficiency and friendliness in the hotels, trains, restaurants, shops and on the street. We have carefully planned and conducted this tour many times and are now giving away the secrets of how you can do this tour on your own. Go for it.
This carefully-planned tour visits the main highlights of Scandinavia, St. Petersburg and Amsterdam with a customized itinerary that stays for several nights in each destination. You will have time to soak up the local atmosphere and get to know the places, without being in a big rush. This in-depth approach is much different than a cruise, because we stay in the center of each city for several days and really get to know these places. We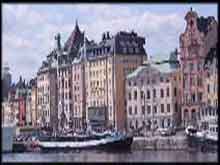 conduct guided tours in each place so you can learn your way around and understand the many fine sights we will be seeing, and you will have free time for personal exploration. The weather in July is very mild, with temperatures expected to be in the 70s. The cities we are visiting are generally as far north as Anchorage, Alaska, so daylight lasts until 10:30 p.m., which enables us to fit many activities into our schedule, as you will see in this summary followed by a very detailed stories below.
We have conducted this tour six times and always had a lot of fun with very satisfied travelers. You can read their comments here and watch the videos that we have photographed during these previous tours. With this experience we have learned how to organize the best possible visit to these wonderful places.
COPENHAGEN
the beautiful capital of Denmark will make a great place to begin our northern adventure. Copenhagen is a city of great charm, with many pedestrian boulevards lined with shops, restaurants and quaint little plazas. We will enjoy three days and nights in this scenic place, then we fly to Bergen.
BERGEN: This historic Norwegian coastal town is surrounded by water, fjords, and mountains. We take a walking tour and optional cablecar ride to a mountain-top. Next day we embark on a most exciting leg of our holiday with a train ride and a spectacular cruise along the rugged fjords of the west coast of Norway to Oslo.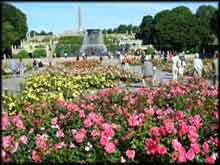 OSLO: Norway's most important city for 1,000 years, with many museums, parks, spectacular views, restaurants and nightlife. Downtown Oslo is compact, with shops, museums, and historic sights concentrated in a small walkable center -- clean, safe, and busy at night with shoppers and strollers.
STOCKHOLM: we continue our journey with another scenic train ride, heading for Sweden and its cosmopolitan capital of Stockholm, probably the most interesting of all Scandinavian cities. There is more to see and do here than you can ever hope to cover, but we will cover it quite nicely. After two days we fly to St. Pteresburg. Russia.
ST. PETERSBURG: Our comprehensive visit to this beautiful city will include tours to the Hermitage Museum, and the Palaces of Catherine and Peter the Great. Each of our four days will feature many planned activities, plus there will be some free time for you to explore your own interests. We then fly to Amsterdam for our Grand Finale.
AMSTERDAM is generally considered one of the best cities to visit in Europe, most famous for its many canalas and historic buildings dating back four centuries and more. It isthe largest city and capital of the Netherlands -- a wonderful city for walking, with its stylish shops, open markets, tree-lined promenades, gourmet food halls, and enticing restaurants.
click buttons to read detailed Tour Descriptions: