SAN GIMIGNANO

We visit San Gimignano as part of our daytrip that also includes Siena, on a private bus tour.
San Gimignano is a classic Tuscan hill town in every sense, with the original wall still standing all the way around and five gateways that lead you into the historic center.  You can see the town in several hours, for it is only 800 yards long and 400 wide, but cradled within this maze of alleys is a history that goes back ten centuries.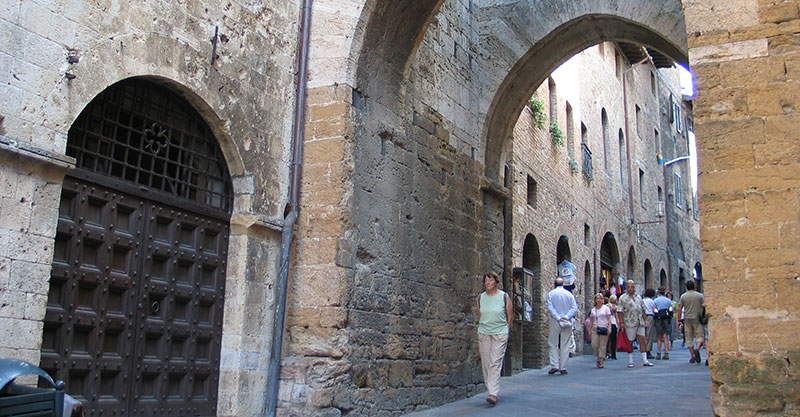 The main entrance to this walled village is through an impressive fortified gate called Porta S. Giovanni, which leads directly into Via San Giovani, the busiest shopping lane, which continues 400 yards to the central Piazza della Cisterna.  This connects to the Piazza del Duomo, the historical focal point of town, surrounded by the church, palace, towers and museum.
Santa Maria Assunta, the Duomo, was built at the center in a Romanesque style with many interesting frescoes covering the inside, including some by Ghirlandaio.  From the piazza in front of the church you can see seven different towers, including the oldest one at the Palazzo Vecchio dating back to 1239, and the tallest tower, reaching 176 feet above the Palazzo del Popolo, a worthwhile art museum containing work by Pinturicchio, Lippi and Bartolo.  You can climb the tallest tower for a spectacular view of all the other towers and rooftops in town.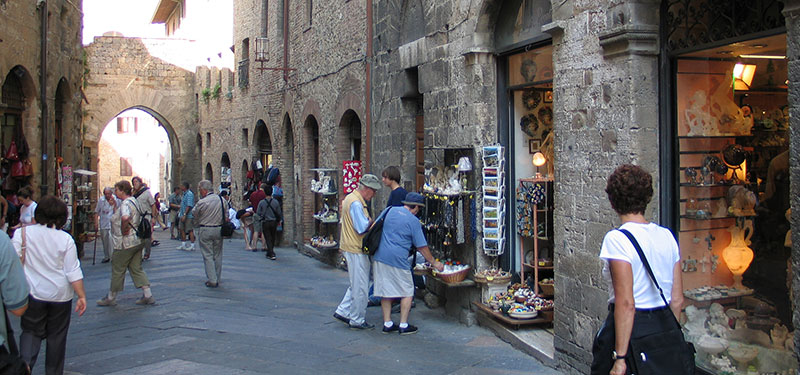 While the churches and museums are of interest, the main attraction of San Gimignano is the town itself, with winding little alleys, ancient homes, terraced gardens and those amazing skyscraper towers.  Be sure to walk along Via San Matteo, a steep lane with shops that are geared more for locals than tourists.  It leads towards Sant' Agostino, another 13th century church with important frescoes, a huge marble altar and a graceful little cloister.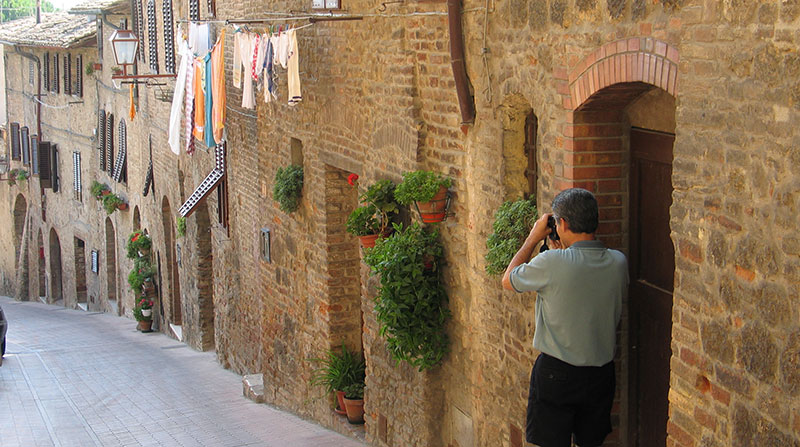 Walk back towards the town center along the quiet, back lane, Via Capassi, if you'd rather see a residential row rather than more shops.  Similarly, when leaving the town walking back towards Porta S. Giovanni you have a choice of seeing all the same shops again or walking on a residential street, Via Berignano, running parallel and just west of Via San Giovanni.
In its heyday of the 13th and early 14th centuries the population of San Gimignano was double the present 5,000 and it is believed there may have been as many as 72 tall towers.  These medieval skyscrapers were status symbols for the families and also served as a place of refuge during disputes with neighbors.  As in much of medieval Tuscany, there were ongoing struggles within the town between the rival Guelf and Ghibelline factions which often led to violence.  The town was also subject to attack from outside, caught in the middle between much bigger forces of Pisa, Arezzo and Siena.  An alliance with Florence in 1353 helped protect the town and is one reason why these towers have survived.