Click button for detailed article about each place.
AIX-EN-PROVENCE

We also visit Marseille, described below.
Aix-en-Provence is one of the prettiest towns in all of France, so lovely that various French surveys have named it the most desirable city in which to live and retire, due to its special ambience and beauty. The modest population of just 150,000 residents gives it a small-town charm, yet Aix is big enough to provide all the necessities and comforts of urban living. Nearly 30 percent are university students, lending an air of youthful energy, culture and enthusiasm, plus you'll always find budget places to eat when there are so many young people around. Aix marks the spot for shopping, wandering and eating.
It is easy to visit Aix on a daytrip from Avignon on the high-speed TGV train, which also makes it convenient to include Marseille later in the same day. All three cities are connected by one TGV train line, with brief travel times of 20 or 30 minutes between each place, although you will have bus transfers to the TGV stations adding another ten minutes (details below). Avignon is the large city we use as the ideal home base for visiting Provence, because you can easily get around by train to surrounding cities.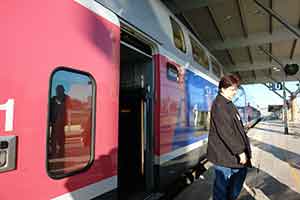 Upon arrival in Aix at the TGV station you take a convenient shuttle bus into town, then walk 5 minutes (400 meters) from the bus station into the center along Avenue des Belges. Upon arriving at the big traffic circle, take a short detour to the Tourist Information Office, by turning left into Les Allées Provençales, a dazzling modern shopping mall that will already tempt you with 45 stores. The friendly and efficient Tourist Information Office has an excellent free map of the city and other brochures. The staff speaks English and can answer your questions, provide sightseeing tips, suggest restaurants or hotels and point you in the right direction.
It is always helpful to do some research, especially if you are only in town for a few hours on a day-trip, with limited time that you don't want to squander by getting lost or going the wrong way. However, while it is good to develop a plan for your visit and locate the various attractions and pedestrian lanes on a map to make sure you find the right neighborhoods, you also want to leave time for the aimless wander, follow your nose and stroll about casually, turning here or there depending on which twist looks good at the moment. The Old Town is small enough you will not get lost for long, yet has so much to explore you will want to spend at least half a day here. This mystery of discovery is always a big part of the travel adventure.
WALKING ROUTE
Begin at the giant fountain called La Rotonde, the largest of Aix's fountains, 32 meters wide and 12 meters high, set in the middle of the hectic traffic circle with cars swirling all about at one end of Cours Mirabeau, the main street of town. Things will get more peaceful soon in the pedestrian zone once you leave this busy Place Général de Gaulle. On top of the fountain are three large statues representing justice, agriculture, and fine arts, while 12 bronze lions along with swans, angels and dolphins surround the cast iron basin. What would Aix-en-Provence be without its fountains? There are 40 public fountains that refresh the city giving it a softness and grace, many of which you will find in your walks.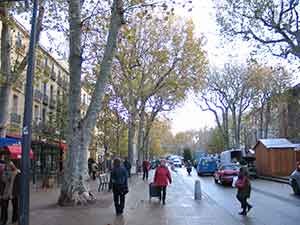 Proceed along, Cours Mirabeau, the tree-lined boulevard that was established in 1651 and is sometimes considered the most attractive boulevard in all France: lined with shops, outdoor cafés and restaurants in all price ranges along a wide sidewalk with magnificent plane trees forming a canopy towering overhead. A signature site of town are three moss-covered fountains in the middle of the street, first the "fountain of the nine canons", then "mossy fountain" from which flows warm thermal water nourishing the green moss, and at the end of the boulevard the fountain of Good King René, designed in 1819.
The Cours makes a classic place to sit at one of its 14 cafés or on a bench and while away some time. It's a great spot for people watching, whether it's sunny or cloudy, warm or cold, any season, it doesn't matter, it's always a busy place. The Cours' most famous café is Les Deux Garçons, at number 53. Cours Mirabeau is a wide boulevard that does allow cars but even here, most of the roadway consists of wide sidewalks, with only two central lanes for a small amount of motor traffic, primarily for small public buses and service vehicles. The historic Old Town, called "Le Vieil Aix," is on the north side of the Cours, one of the world's loveliest pedestrian zones, an idyllic urban landscape of pretty, low-rise buildings three and four centuries old, criss-crossed by a maze of tranquil pedestrian lanes lined with shops and cafés.
LITTLE LANES
Aix has one of France's best collections of narrow lanes for a pleasant stroll, something like a miniature, old-fashioned Paris without the noise, crowds or congestion. This lovely neighborhood is a curving grid of more than 30 streets that are all entertaining to walk along. This is French living and urban planning at its best, with fountains, benches, trees, shops and cafés always around. The map from the Tourist Information Office shows the main part of the Old Town with the streets that are good for exploring lined in green, which is nearly every street! To narrow things down a bit and offer a navigating sequence, we suggest specific routes marked with dotted lines, offering you the choice to follow our directions or toss them aside and just wander. Your personal route might be determined by spontaneous decisions made at each corner, looking one way and the next to see which looks best. It can be helpful to follow a plan and keep track of where you are going in order to see as many sights as possible without getting lost, and not wander beyond the center to less interesting fringes. Walking these narrow lanes will be delightful no matter where you go, and within a few hours you can easily experience most of it.
Walk along Rue Marius Reynaud two blocks west to Place Saint-Honoré, a typical small plaza with a fountain in the middle and five different named streets feeding into it, each worth a glance. If you had skipped the open markets and are coming directly from Cours Mirabeau you could walk a block up Rue Fabrot or Rue Clemenceau to get here. Continue west on the same street, now called Rue Espariat, for another block to Place d'Albertas, a small square enclosed by mansions with Baroque facades dating back to 1745, and a cast iron fountain in the center.
You are now in position to walk north along the main pedestrian lane that winds through the heart and soul of the Old Town, now called Rue Aude, soon changing names to Foch. Those eager to purchase souvenirs, clothing, foods, jewelry, art, postcards, perfumes, crafts, antiques and fabrics will have abundant choices on this street, although strolling and looking are probably more important for most travelers than actual shopping. It is The Great Street of town for people watching and absorbing Aix at its best.
You will soon arrive at the main and prettiest square, Place de l'Hôtel de Ville, with City Hall, café tables in the middle and shops along two sides. Drop anchor for a while at a terrace café to absorb the grand sights all around: the baroque city hall's columns and triangular pediment define the square, punctuated by the tall Clock Tower and a Roman column in the center, sheltered under a generous sprinkle of trees and livened by a constant parade of people passing through this central crossroad.
The Clock Tower was built in 1510 as a bell tower, with clock added in 1661, and it became the symbol of local power in the city, looming over City Hall. There are four wooden figures which appear on the hour and represent the seasons. The arch at the base of the wall is a remnant of the fortified wall that once surrounded the town, and when you later go through the arch it can lead you along pedestrian streets in three different directions.
The neoclassical grain market on Place de l'Hôtel de Ville, now a post office, completes the scene with a matching pediment of sculpted, allegorical figures. The fountain is considered the geographic center of the city and was designed by Georges Vallon in1755 and sculpted by Jean Chastel Pancras in 1789.
Tale a right at the north end of the plaza and walk east on Rue Paul Bert to reach a typical street in the heart of town, Rue Boulegon, just one block long yet fascinating in its own right. There's a slight curve to it, arousing curiosity about what lies beyond, luring you further along. This is just outside the pedestrian zone but even here it is very quiet. Some cars are allowed, but they need special permits the park in the area, so it retains that smooth ambience, which is so attractive that native son Paul Cezanne, one of the world's great artists, chose to live his final years here on Rue Boulegon.
Place des Trois Ormeaux is one of the prettier little plazas and can be glimpsed in an easy four-block circular detour from Rue Boulegon. Walk south two blocks on the rather uninteresting Rue de Matheron, arriving in a few minutes at the charming Place des Trois Ormeaux, a fountain in the middle with an octagonal basin and shops around. Rue Jaubert is a nice lane leading west from here to another central square, Place Richelme, the site of a small, daily produce and flower market.
The next major destination is three blocks further, reached in a different route by walking along Rue des Marseillais then turning right on Rue de la Verrerie to the Forum des Cardeurs, Aix's largest square. Its pastel façades surround the large central plaza, creating a distinctly Provençal atmosphere, enhanced by a row of outdoor restaurants. Cardeurs is often frequented by university students and the local yuppie crowd out for lunch, so it's a prime spot to have a meal. There are several outdoor restaurants with awnings stretched along the side of the square, and a very nice preferred cluster of eateries bunched at the east end, with reasonable prices and delicious foods. You will be tempted by an enormous variety of meals in all price ranges throughout Aix, from the simple take-out sandwiches to the highest quality haute cuisine. You can't walk a minute without seeing more food, and Cardeurs is one of your better dining bets.
Place des Cardeurs used to be just a wide street running through the city, as were many of today's pedestrian lanes. Fifty years ago there were cars running through sections like this, but now it has been converted into this wonderful broad plaza, with a similar ambience as Italy. After all, we are in the South of France, and there is a definite Mediterranean twist that is a little different than most other French towns.
For an extra walking bonus from the plaza you could walk past the restaurants of Cardeurs to the west end, take a left on Rue Lieutaud for one block, arriving at Rue des Cordeliers, another one of the major streets of the zone. Here you might be tempted to stroll back and forth to take in the many lovely shops, eventually looping back east to the main square, Place de l'Hôtel de Ville. This diversion offers guaranteed fun.
That main pedestrian lane continues north from Place de l'Hôtel de Ville, changing names now to Rue Gaston de Saporta, another beautiful segment in the center of town, just a few blocks long and connecting the two most important places, City Hall Square with the Cathedral. This is a complete street, the perfect pedestrian lane with little shops offering postcards and souvenirs, ice cream, sandwiches and clusters of the university buildings, often with students out front between classes.
We now reach the northern limit of our suggested walking tour, the ancient Cathédrale St-Sauveur, a church of very early origin that dates in its present form from the 11th century: the choir is from 1285, one aisle was added in the 14th century, and another in the 17th century. In English we call it St. Savior Cathedral. It is an architectural patchwork that has survived the centuries. Built according to legend on the site of a pagan temple, it was constantly revised and unites three naves of three different styles -- the Romanesque, Gothic, and Baroque.
As you enter, to the right is the 6th century, octagonal Baptistery, rebuilt in 1577. It contains eight antique columns, six in green marble and two in granite, said to be from the earlier Roman Temple of Apollo on this site. A few unformed fragments of the great Temple of Apollo remain in the walls of Saint-Sauveur. Aix was the earliest Roman settlement in Gaul, the Aquæ Sextiæ of Baths, Temples, Theatres, and great wealth.
It is a well-arranged display where the evolution of Provençal architecture may be completely followed. Nowhere in Provence can be found richer Gothic details. This is one of the largest Cathedrals of the province, and the buildings which form the ecclesiastical group include baptistery, Cloister, church, and archbishop's Palace of many epochs and styles. The central nave, whose whole length is so little broken by entrances to the side aisles, seems almost solidly enclosed by its massive walls. St. Savior also hosts the altarpiece painting of the Burning Bush, a masterpiece of the 15th century.
The beautiful façade is one of the most charming portals of Provençal Gothic. Decorated buttresses stand on either side of a large, shallow recess which has a high and pointed arch, and in the center, a slim pier divides the entrance-way into two parts, symbolizing the final division of the Blessed and Damned. The Tower, 210 ft. high, dates from 1323, but the work dragged along with many periods of absolute idleness, until 1880, when it was finally completed.
You'll find a lot to see in front of the cathedral in addition to the beautiful façade, such as a picturesque sidewalk café, a great spot to sit and take a break, have a drink and enjoy the scenery. The pedestrian lane passes right by the café. Just in front of the cathedral is the main university, which has been here for centuries. You might notice students out front on a class break – it's a popular place for young people to hang out. In front is a bust of Nicolas-Claude Fabri de Peiresc (1580-1637), a patron of letters, art, and science, who lived in Aix.
After finishing with this north part of town and the Cathedral, backtrack, choosing some alternative routes heading south to wander through. You will probably run into some street musicians at some point, so stop and listen for a few minutes and look around at the people, building details, shop fronts and sidewalk action while absorbing the general vibe. All too often in the rush of traveling you come upon sidewalk musicians, take it for granted and don't even stop. But it's usually worth a moment to listen -- and they don't mind if you stop right in front and get real close: that's why they are there, and they would appreciate a little gratuity in return, of course.
As you wander south consider another bonus: walk on that same main lane you came up on, Saporta for a few blocks to Foch, then turn tight at Rue Bedarride for a couple blocks to Rue Aumone Vielle, where a right turn brings you to the charming little Place Ramus, with a couple of tempting restaurants. Continue along turning left on Rue Aumone Vielle to one of the most charming plazas, Place des Tanneurs, with the usual fountain, café, restaurant and shops. Two delightful streets lead from this plaza and you have to pick one or the other or walk back and forth to experience both: Rue des Tanneurs and Rue de la Couronne, which ends in yet another gorgeous plaza, Place des Augustine. Both streets end up back at Rue Espariat, among the best streets of Aix. This town is too much!
Turning west on Rue Espariat would bring you in one block back to the big fountain where you began, Place de la Rotonde, and from there is it a 5-mminute walk back to the bus station for your departure.
Or, if you have any energy and time left and want a final bonus, take a walk on the south side of the Cours through what is called the Mazarin district. This rectangular grid, five blocks long and wide, has a series of attractive mansions that are now divided into private apartments, along with a significant art museum, Musée Granet, exhibiting a broad range from prehistory up through Aix's most famous native son, Paul Cézanne.
Walk along the Cours to Rue du 4 Septembre and walk three blocks to a whimsical fountain with four dolphins and an obelisk sits in the middle of Place Dauphin, the central crossroads of this neighborhood. The Fountain of the Four Dolphins is one of the oldest fountains and Aix, sculpted in 1667 by Jean-Claude Rambot. It represents four smiling dolphins, each with a different expression, around a pyramid that was originally crowned by a statue of St Michel and was successively replaced by a lily, a Maltese cross and a pinecone.
From here it is an easy walk back on the Cours towards the Place de la Rotunde where you first arrived, and continue on down Avenue des Belges to the bus station for your shuttle bus to the TGV station. If you are following our program, your next destination is Marseilles, just 20 minutes away by fast train.
ART of WALKING
As you wander through Aix you might sometimes find yourself going in circles, a bit lost, which is part of the charm of exploring a place for the first time. Don't be dismayed if you are walking along a lane for the second or third time, in an opposite direction – you will always notice new things. That is actually a good technique for exploring those intriguing streets that are fun but don't connect with anything, leading nowhere -- so just enjoy it as a little round-trip and walk back the same way. It's a fact that we only absorb a small fraction of the sights and stimuli around us, so a second and third visit down the same attractive lane can be quite entertaining. Be sure to also look up above those mesmerizing shop fronts to appreciate the beautiful architecture, much of which dates back to the Baroque 17th century, the third largest such collection in France.
It was the French back in the 19th century who perfected the art of walking for sheer pleasure. They called it the flaneur, the aimless wanderer where you're just walking along, alert to your surroundings, observing things, interesting, even unimportant details, not so much worried about your destination, but enjoying the journey. This art of walking, or flaneur, was well described by a 19th century French writer named Victor Fournel, who asks us: "have you reflected on everything contained in the term flaneur, this most enchanting word which is revered by the poets? Go on infinite investigations through the streets and promenades, drift along with your nose in the wind with both hands in your pocket, with an umbrella under your arm, and an open-minded spirit. Walk along with serendipity without pondering where, and without hurrying. Stop in front of stores to regard their images, at street corners to read their signs, by the book stands to touch and smell. Give yourself over, captivated and enraptured with all your senses and all your mind to the spectacle." The 19th century Parisians elevated walking to a fine art.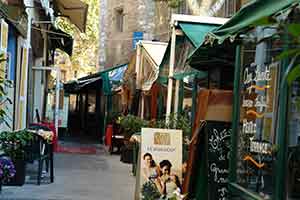 While some of the most-charming lanes are pedestrian-only, many streets do have an automobile lane down the middle allowing some motorized access, but they drive slowly and you hardly see vehicles driving through this restricted historic area. There are protected sidewalks for pedestrians with many people casually walking in the middle of the narrow roads, keeping an ear open for oncoming traffic. Even the public buses are very tiny for just a few passengers, electric powered, providing excellent, quiet service. It is all very safe and delightful with a relaxed atmosphere throughout town.
It is a fascinating place to explore on foot, with never a dull moment and very few boring blank walls. The buildings are human scale, no higher than five stories throughout the Old Town, arranged together in a medium-density that creates urban vitality, with shops and cafés lined up along most of the lanes. This automobile-restricted zone is only about one half-mile across, so you can see most of it in a few hours, but it feels larger because the lanes are narrow and winding in a pleasant tangle, and offers enough variety that you might be tempted to spend the entire day exploring.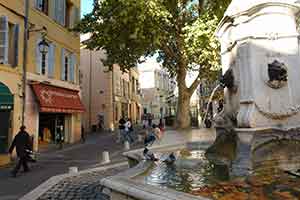 Throughout this central historic district you'll find an interesting mixture of restaurants, shops, a few offices and apartments upstairs. This blend of live, work and play creates an ambience that modern city planners are striving to re-create and yet here it just sort of happened naturally, evolving in place over the centuries. There might not have been specific our scientific urban plan to create it, the town just grew this way, which has kept the central part of the city alive and thriving. The world needs to learn from and re-create this humanistic way of living, as we rebuild our decaying inner cities and build new towns from scratch.
This is a much different lifestyle than American suburbia where you have to drive to everything, and you might be living an hour away from work. There is nothing in walking distance of where you live except a few more houses, which might have some charms: you've got a big house and a yard lording over your own little kingdom. There is a quietude and comfortable isolation about that life, but in the European towns you have a much more sociable and convivial atmosphere, and this compact urban life is better for the global environment.
BRIEF HISTORY of AIX
Aix was founded by the ancient Romans more than 2000 years ago, and originally called Agux Sextix. It was the oldest Roman colony in Gaul, and owed its Latin name jointly to the thermal waters and the consul's Sextius Calvinus by whom it was colonized in the year 123 BC. 20 years later, the Roman general, Marius, defeated the Pentanes in the vicinity, but of course little now remains of those ancient monuments which embellished Aix before the barbaric invasions. From these invasions Aix recovered slowly and then became the capital of Provence with a refined court, where the Provençal language was fostered.
Aix was annexed to the French crown in 1481, and in 1536 it was taken by Charles V of Spain, who proclaimed himself king of Arles and Provence, but had to evacuate two months later. During the next couple of centuries Aix, suffered from a variety of religious wars, but it survived in came through as one of the shining jewels of Provence.
That's a brief look at Aix. It's an amazing place to visit, but you don't need to spend more than a day to see it, so if you are staying in nearby Avignon or Arles, it is not worth re-locating from your comfortable hotel to spend the night in Aix. Or vice versa, if you choose Aix as your home base, day-trips from here to nearby cities will do just fine, Including a look at the big city of Marseille, second largest in France.
We started out with a rather outrageous claim, that the French consider Aix to be the most desirable city in the country in which to live. Specifically, if they could retire anywhere in France, they would choose Aix and I do believe in today's program we have proven their case. It's a beautiful town.
The setting is magnificent because you've got open countryside all around it. You're in the South of France, which means the climate is going to be wonderful all year round. It's going to be mild in the summer and very pleasant in the winter. Aix never gets bitter cold. Rarely would it get hot.
So you really have the best of all worlds. It's a sophisticated urban place, and yet it's a small city, so you've got all the amenities: the walking distance, you've got a shop on the corner you got the café around the bend. there's a bar, there are restaurants, outdoor plazas, fountains, beautiful boulevards, wonderful colors of the buildings, tree-lined streets -- what more could you possibly ask for? There's a mix here in population of University kids, there's older folks, there's working people, there's some immigrant vitality. You've got train stations that will take you to some nearby places that are wonderful, such as Arles and Marseille, you've got the entire Cote d'Azur you are just an hour or two away. And you're in Provence. This is the good life.
Don't tell anybody else, but we might have found that most beautiful town in the world.
Next we continue by high-speed TGV train ride to Marseille. arriving in just 15 minutes.
MARSEILLE
We are traveling from Avignon, our home base in Provence, down to Marseille, after first visiting Aix-en-Provence. It's better to visit Aix first because of their morning markets, then continue further south to Marseille, and when finished with the daytrip, backtrack to Avignon by the same TGV route in a big round-trip. These trains are so fast it only takes about 15 minutes from one city to the next, making the visit so easy to don't want to pass it up.
Our touring plan for Marseille is quite modest -- just take a stroll through the main section of downtown and marina for several hours in a brief look to get a feeling for the place. Obviously you could spend much more time here to thoroughly explore the various neighborhoods, museums, and even the regional coastal areas such as Cassis. There are various package tours and boat rides you could enjoy that would easily take up a full day.
Major new developments have been transforming Marseille from a scruffy, worn-out town into the glistening City of Culture, as it was designated in 2013, thanks to large new shopping centers, many gourmet restaurants, innovative museums, revitalized urban core, modernized tram system, transformation of historic buildings into deluxe hotels, wider sidewalks and revitalized inner harbor, which have combined to create one of Europe's most up-and-coming "new" cities, even though it is the oldest city in France and one of the oldest on the continent.
But in our big scheme of covering Provence and Côte d'Azur in two weeks, a few hours will do nicely, which you could extend right into the evening. The way this day is structured, visiting Aix in the morning through lunch should get you to Marseille by mid-afternoon, a nice time to be out walking, which also gives flexibility to lengthen the visit and have dinner in one of the many fine restaurants, especially famous for seafood...bouillabaisse anyone?
Upon arriving at St-Charles Station in Marseille, it only takes a couple minutes to walk to the main street, La Canebière, so you're immediately in the center of town strolling along a grand boulevard. The name Canebière is from the Greek 'cannabis' (hemp; rope-walk), not a reflection on modern culture or prior drug wars, but one of various reminders of the ancestral Greek culture. See below for a little history – yes, the ancients Greeks were big here.
Marseille has the second-largest population in France, and strolling along this fine street makes it seem like you are in a smaller version of Paris. The sidewalks are wide, a tram runs down the middle, shops and cafés line both sides, scooters glide by, lots of people are out strolling, trees provide greenery, four-story buildings create a human scale, and you are gliding along slightly downhill.
Several side streets that are mostly for pedestrians and lined with more shops offer tempting detours, especially rues de Rome, d'Aubagne, Saint-Ferréol, and Paradis. You can easily walk up one for a few blocks, then cross over to the next and return to La Canabière, zigzagging your way along.
How could this get much better?
Yes. It gets even better when you reach the waterfront end of La Canebière at the vast marina, and with more major streets peeling off in various directions. This total walk from the train station to waterfront is only 1,000 meters, which takes 15 minutes at normal walking speed, but probably longer because you want to stop and detour along the way, adding another 15 minutes at least.
The Tourist Office is at 11, la Canebière, offering maps and information. They have an excellent free brochure with a walking tour map of the Old Town that we are heading for soon. This is all available as free downloads on their excellent web site, http://www.marseille-tourisme.com/
Across the street you'll see the impressive neoclassical facade of the Bourse, which houses the Chamber of Commerce, established in 1599, the oldest in France. Take a quick peek inside to appreciate the large rotunda and impressive interior – maybe one of their regular exhibits is happening. One block behind that on Cours Belunce is downtown's main shopping mall, the Centre Bourse, with a Galeries Lafayette, FNAC, and several dozen typical shops. Then continue to the waterfront, one block away.
The old port and neighborhoods around it are the most interesting parts of Marseille for the visitor. It is a wonderful marina, about 80 acres in size with 2,000 pleasure boats -- sailboats, big yachts, fishing boats, excursion and motor craft. In season you can get boat rides to view the famous Calanques, picturesque rocky coves, along the coastline. The tranquility of this "Vieux Port" has been protected because cruise and cargo ships around the bend in a different harbor, busiest in the nation.
Capital of Provence, with metropolitan population of 1.3 million, Marseille was historically the most important trade center of France and for 2,500 years this Old Port is where all the action took place. Walk along the right side of the marina on the Quai du Port, passing many attractive sidewalk restaurants that might tempt you back later. Views of the boats tied up on both sides of the basin to 50 long piers are quite lovely. Total length of this marina section is only 600 meters, very easy and enjoyable.
Just before reaching the end of the marina, cross the street at the traffic light, and continue on Quai du Port another short block, then walk up two levels of the stone St-Laurent steps to a terrace where you will get the best view of Marseille. At the edge of this terrace you'll enjoy a grand vista of the marina and the two forts from the 17th century, Saint-Jean and Saint-Nicolas, guarding each side of the harbor mouth.
Continue along the terrace to a black metal pedestrian bridge that leads to the more terraces and the spectacular Museum of European and Mediterranean Civilizations. Opened here in 2013, this bold modern building built on reclaimed land in the harbor is dedicated to Mediterranean civilization, past and present. Called MuCEM (in French: Musée des Civilisations de l'Europe et de la Méditerranée), the building is a cube of 15,000 square meters surrounded by a latticework shell of fiber reinforced concrete, houses exhibits on two different levels, with a café on the roof and a cluster of gourmet restaurants inside supervised by Michelin 3-star chef, Gérald Passedat. One million artifacts make up the permanent collection, with continuous special exhibits as well, representing dozens of cultures. This bold architecture was designed by Rudy Ricciotti in collaboration with the architect Roland Carta.
If you would like to explore the modern face of new Marseille, which is being created in one of Europe's largest renewal projects, continue north from MuCEM along the waterfront for another mile (1500 m). Three major shopping and dining complexes have sprung up in this stretch along the commercial waterfront – a project that will be ongoing for 20 more years but is already showing impressive results.
Here you will find the Terrasse du Port, Provence's biggest shopping mall, featuring Printemps and190 stores spread over 4 levels. Another new shopping and restaurant area, Les Docks, has sprouted up along the way in the former harbor headquarters, a large mixed-use complex. Les Voûtes de la Major is the third leg of this new cluster, featuring many high-end shops and a large indoor food hall, Les Halles, in a historic arcaded building below the Cathédral la Major.
This splendid new section of the city could obviously take all day for the determined shopper, museum lover and seeker of contemporary splendor. If you find yourself in that category, consider restructuring this day so that it only visits Marseille, and save Aix-en-Provence for another day. For now we'll assume you are just taking a look along this glittering new shore from the MuCEM terrace and then continuing the walking tour.
OLD TOWN
The Old Town, called Le Panier, extends out from the museum, but was totally rebuilt after World War II because the occupying German army systematically demolished nearly the entire old section to root out resistance fighters.
After the war this zone was rebuilt in the old style with the narrow lanes, but frankly it is still a bit scruffy, with lots of graffiti scrawled on beat-up old buildings -- which makes it all the more interesting as a neighborhood in transition, becoming a newly-hip, authentic, bohemian space, away from the tourist crowd.
The urban explorer will enjoy various pedestrian lanes here and picturesque staircase streets, with a scatter of neighborhood shops and cafés. There is peaceful and quiet atmosphere in this Old Town, which seems quite safe to walk through during the daytime. Shoppers will appreciate the little boutiques and craft stores selling handmade goods made in the area -- ceramics, jewelry, artsy items at reasonable prices.
Upon plunging into the Old Town from the museum terrace, you will be assisted by a helpful red line that has been painted directly on the sidewalk to guide your way so that you don't get lost. This is cleverly matched by a red line on the free map provided by the Tourist Office. However, you might be tempted to deviate from suggested routes and explore whatever lane, staircase or plaza looks good. For example Place de Lenche is not on the red line but makes a good starting point, easily reached from the museum terrace along busy Rue St-Laurent. On a nice day Place de Lenche is filled with outdoor restaurant tables, making it one of those normal-but-special places for the visitor.=
On the other hand if you want to see the cathedral, a giant neo-Byzantine edifice constructed in the late 19th century, exit the other corner of Place de Lenche on Rue de la Cathedral. A contrary option for time-constricted walkers who just want the minimal shortcut out of this Old Town, is depart Place de Lenche from the northwest corner on Montée des Accoules then walk up the staircase and straight across five blocks, coming out by Rue Caisserie, then turn right, back to the harbor, all in 10 minutes. However that quick getaway will deprive you of several characteristic narrow lanes, which most hardy travelers enjoy.
For best results through the scenic Old Town, get back on the suggested red line by departing Place de Lenche along narrow, delightful Rue de l'Évêché for two blocks to Place des Cantons, then to Rue de Petit Puits, Rue du Panier (which gives its name to this district), and connects with Rue de Moulins, a picturesque staircase street leading into a quiet residential plaza. At this point you can find a direct route out along Montée des Accoules downhill, down, down, down towards the port, ending up at Place Jules Verne and Hôtel de Ville by the marina. This will require a little bit of up and down, after all this neighborhood is on a hill, but just follow the lanes and you'll easily find your way back to the marina.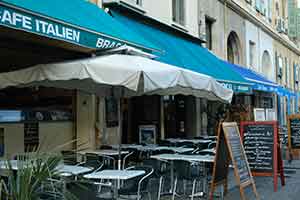 You'll now be walking along the waterfront promenade lined with a dozen cafés and restaurants fronting the harbor. At the end of the quay there is another lovely street you might enjoy a short stroll along, the busy Rue de la République, a major boulevard designed by Haussmann with wide sidewalks and shops for blocks. If interested, walk up one side four blocks to the round Place Sadi-Carnot, where the tram joins in, turn around and walk back the other way, returning to the port.
A pleasant and comfortable section of the waterfront is across the marina on the south side, with a series of broad avenues, plazas, pedestrian streets and many restaurants. Walk past the top of the port on Quai de la Fraternité to Cours J. Ballard and explore the four blocks leading from here along the waterfront to Place aux Huiles, with side lanes for pedestrians only. Running through the middle is a classic pedestrian street, Rue Saint-Saëns, leading to Place Thiars. The city's largest outdoor plaza is one block inland with many outdoor restaurants, Cours Honoré d'Estienne d'Orves, in an open space that was created in the 1980s after community activists successfully pressured the government to demolish a huge multi-level parking lot and put the cars underground.
Obviously there's a lot more to see in Marseille but we've just been doing a little reconnaissance, a little walk through some of the main highlights. It is one of the most visited cities in all of France, with 4 million annual tourists, so there are many more things to see. For example there are a dozen museums, hilltop viewpoints, modern architectural landmarks, bouillabaisse, tourist tram, bicycle tours, old churches, wine tastings, etc. However, our stroll through the center has shown you the real heart of the city in all its authentic diversity.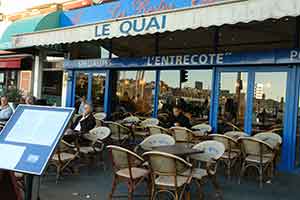 You could easily walk back from the Old Port to the train station, which is just 800 meters slightly uphill from this part of town, but instead, try the metro, with a convenient entrance across the street from the marina. It's very easy to get around on this underground train – just a couple of stops from the harbor to the station. It's the only metro station on record with a big fish tank, which has been here for many years -- the fish are doing quite nicely. It's a good diversion to check them out while waiting for the next train, which arrives in a few minutes.
When you get out of the metro at the St-Charles Station it's easy to find your way -- just follow the signs. Everything is very clean, safe and well lit, and they have big escalators. The metro is deep underground so don't climb up the steep staircase outside the building, even if you walked here – go inside and take the escalators. It just takes a few minutes to arrive in the central station platform area.
They have done an incredible job of rebuilding and expanding and modernizing this train station in recent years. It seems to have doubled in size and become on indoor shopping mall and entertainment center. You might even see musicians – how nice to have a piano available for the public. Anybody can just sit down and start playing.
We are continuing our journey back to Avignon, only 35 minutes away by TGV. To recap: we spent about three hours in Marseille walking from the train station to marina to Old Town and depart. Some might wish to stay in Marseille for the evening, perhaps for dinner or hit the shopping malls, easily returning to Avignon on your own by train that night.
HISTORY
People have lived in the area at least from 20,000 B.C. as shown by early cave paintings of that date. Recognized as the oldest town in France and one of the oldest in Europe, Marseille was founded about 600 B.C. by Phoceans, a Greek culture from the coast of Turkey who named it Massilia. This seafaring society established many coastal towns along the Mediterranean, including Nice, Antibes, La Ciotat, and St-Gilles, and they explored part of the coasts of Africa, but Massilia was their most important.
Ages passed, and other Greek settlers arrived, bringing with them corn, wine, and olive trees, and the people of Massilia became expert in the manufacture of jewelry and the first soap in the world, according to Pliny.
With increasing Roman influence by the 5th century B.C. Marseille became an important trading center with goods brought by ships across the Mediterranean and transferred to the Rhone River for delivery north into Gaul. Romans constructed a town but the spirit and population base of the founding Greeks kept those ancient cultural traditions alive.
Massilia invoked the aid of Rome but retained her independence until, having sided with Pompey in the Civil War, it was besieged and captured by Julius Caesar in 49 B.C. and yet maintained its status as a free city, with a diminished importance.
After the fall of Rome the town was sacked by the Visigoths and the Burgundians and destroyed by the Saracens, but recovering from these disasters it became part of the Kingdom of Arles, governed by a viscount and bishop. In 1218 it became independent, but then conquered by Charles of Anjou about 1250, it fell under the sway of the Counts of Provence. It was sacked by Aragon in 1423 who ruled over it until annexation to France in 1482.
On several other occasions the citizens showed their independent spirit, as in refusing to recognize Henri IV until 1596, and also joining the War of the Fronde, which attempted to prevent the absolute power of the monarchy. It was therefore deprived of its privileges by Louis XIV in 1660, who invaded and built the two forts we see today at the mouth of the harbor to subjugate the locals.
Marseille became the main Mediterranean port for France during the 18th century, with continued economic growth. The prosperity of Marseille as a seaport was greatly increased by the conquest of Algiers (1830), defeat of the Barbary pirates and the construction of the Suez Canal (1869).
During the 20th century Marseille became known for its extensive organized crime networks. After WWII, much of the city was rebuilt during the 1950s. From the 1950s onward, the city served as an entrance port for over a million immigrants to France. In 1962, there was a large influx from the newly independent Algeria, including around 150,000 returned Algerian settlers. Many immigrants have stayed and given the city a French-African quarter with a large market.
Currently, Marseille is a major French center for trade and industry, with excellent roads, seaport and airport. Marseille Provence Airport, is the fourth largest in France. Marseille was recently named the most dynamic of France's large cities, with 7,200 companies created in the city since 2000.