Three days in Philadelphia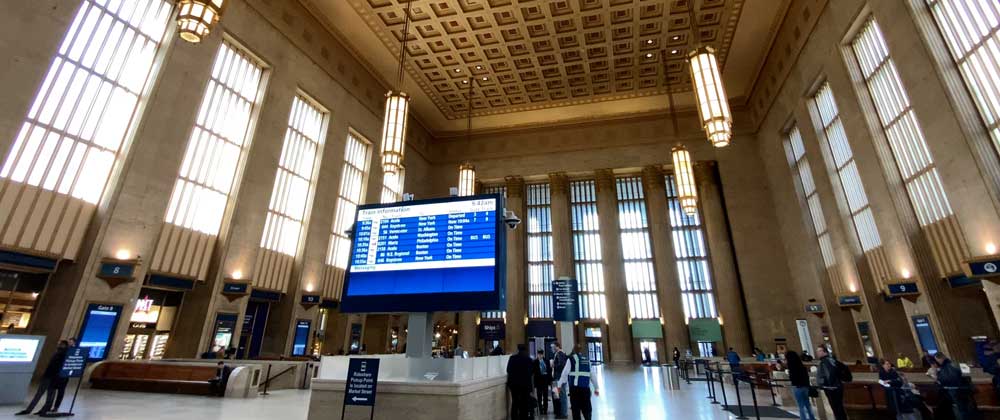 Arriving at the 30th St Amtrak Train Station is a great start for your visit.
Philadelphia is the second biggest city on the East Coast -- and you know this town is filled with American history, but do you realize how much fun it is? Even if your eyes glaze over when it comes to past events, dates and important people, you will still love this city where the Revolution was declared. Here are some of the great places to explore that will keep you busy: Center City, Society Hill, Independence Park, Old Town, South Street, Lancaster County and Atlantic City. It is an eminently walkable city, so wear comfortable shoes.
We will tell you how to efficiently see all these sights in a three-day visit. This is an ambitious program but our real-world experiences show that it can be done.
DAY ONE:
Of course starting with the most important activity -- the main attraction here is Independence National Historical Park, established in 1956 and designated a UNESCO World Heritage Site in 1979. It contains Independence Hall, with the nearby Liberty Bell Pavilion, and many other buildings used by the Revolutionaries and the early Federal Government. America ripped itself away from England here in that long summer of 1776, with the great minds of our Revolution coming together to declare our independence.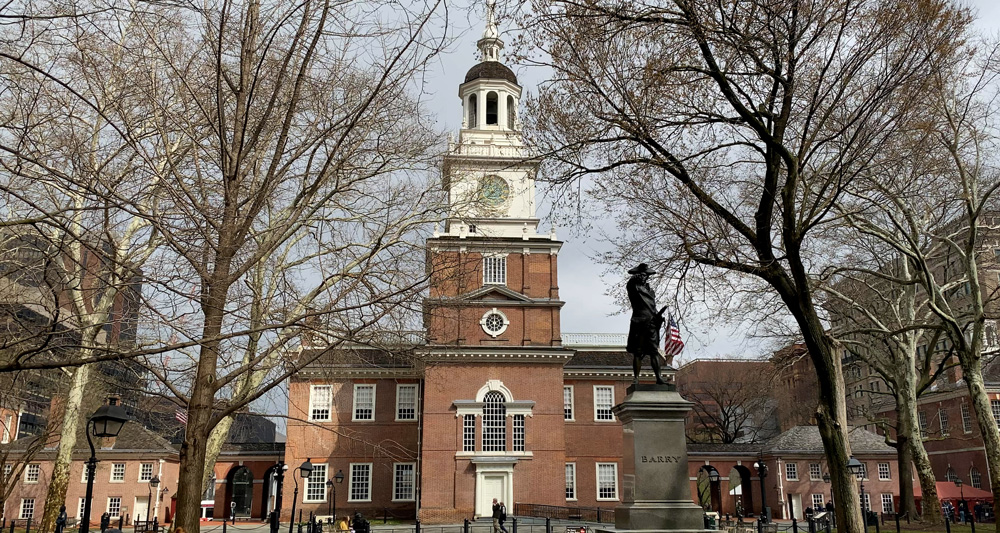 The park rangers really put on quite a free show, with seven different talks offered all day plus six more on weekends, telling the dramatic stories in the actual locations where these rebellious actions happened. This is the best free history show in America. The rangers are walking encyclopedias and most of them love to ham it up and get you all excited about our Founding Fathers.
That's right, it is free, but there is one catch - the park can get horribly crowded, so you have to know how to navigate and when to go. Obviously it is best to avoid the summer mobs, especially on weekends, especially on the Fourth of July, so don't rush to the airport today. Target your visit for the Spring or Fall during mid-week when the crowds are at a minimum and you can generally just walk right into the various sights and have a delightful experience with the very talented and friendly rangers. In these less-hurried times of year the rangers are more relaxed and will chat with you in casual conversations that can answer your questions.
If you must visit during the summer, use the following strategy so you can make the most of your time. Free tickets are distributed every morning from 8:30 at the booth on the corner of 5th and Chestnut, just in front of Independence Hall, so if you are traveling during these peak periods you should line up at 8:00am to beat the crowd. Otherwise, you could spend half your vacation waiting on line, and maybe not even get into the most popular attractions. The doors for most of these buildings open at 9:00 a.m. and close at 5:00 p.m.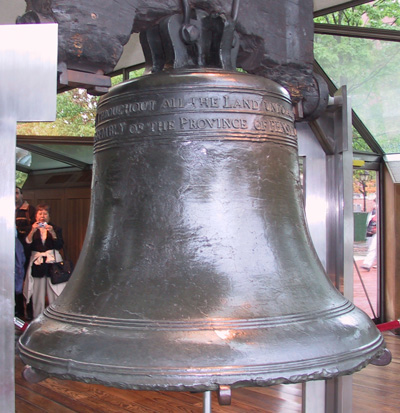 The centerpiece is Independence Hall, where the great debates leading up to our Revolutionary War took place. The rooms have been brilliantly restored to their original style in a mix of Georgian and Colonial architecture. This is where the two founding documents of our nation were adopted, the Declaration of Independence and the Constitution.
Then you want to go next door to Congress Hall, which was the capitol of our country from 1790-1800. Congress met here for the first time and created the Bill of Rights, in the original House and Senate Chambers, which are preserved exactly as they were 200 years ago. It is also where Washington and John Adams were sworn in as president. Amazing to think that these few small buildings contained the totality of our national government offices -- quite a difference from today's vast bureaucratic expansion across the land.
There are a few more historic sites you must see -- especially the most popular of all, the Liberty Bell, housed in its own glass pavilion. Here too the lines can be very long, so be prepared to wait.
Then you want to visit Carpenters' Hall, where the First Continental Congress met in 1774 in the earliest defiance of England, laying the groundwork for the battles to come. The carpenters were among the town's most important people, for this was the largest and fastest growing city in the Colonies. The small historic building is still owned by the Carpenters' Company. If you like money, go have a look at the Franklin Mint.
Finally, you must have a brief look in the Second National Bank, which is now the National Portrait Gallery, putting you face to face with the great men who made it all happen. Then take a walk over the Visitor Center if you would like to collect a pile of free handouts on the various sites and have any remaining questions answered. They can also steer you to some of the remaining sites if you have any time or energy left on this first day, including Franklin Court and Christ Church. Philosophical Hall, City Tavern, The First Bank, the Betsy Ross House, and the Philadelphia Exchange are some of the other sites to see if you have time. Nearby, Elfreth's Alley, dating from 1690, contains 33 houses that make up the oldest continuously inhabited street in the country.
The grounds of the National Park are a delightful series of small gardens and squares that further enhance the experience as you stroll from one site to the next. Everything is contained within a five-block area so it is very easy to walk around. America's most historic square mile is in the midst of a major revitalization. Due for completion in Winter 2001, the new Gateway Visitors Center, to be located one block north of Independence Hall, will provide travelers with information and tickets for attractions and events throughout the region.
Nearly everywhere are dignified reminders of the colonial and Revolutionary city and of Benjamin Franklin, a Philadelphian by adoption, who left his imprint on many institutions in the city.
You can see that Independence National Historical Park will take you most of the day to see, if you are lucky and don't get trampled by the crowds. In the summer you might have to allocate two mornings to catch it all, but let's hope you have it covered this first day.
A delightful way to end the day is with a walk through Society Hill, the best-preserved Colonial neighborhood in America, just a few blocks south of the park. The hill was leveled 200 years ago, so it is now an easy, level walk through a charming residential neighborhood of old brick low-rise townhouses. Despite deteriorating into a slum in the 1940s, the district was reborn in a remarkable urban renewal project during the 1960s that transformed this into one of the nicest parts of town. Just twelve square blocks comprise the area, so it is very easy to meander and see it all.
Much of the residential architecture of Philadelphia is comprised of three-story red-brick buildings based on this colonial style, fronting directly on the street. About 7,500 buildings have been certified by the Philadelphia Historical Commission, which provides some protection from demolition. The city knows the value of restoration and rebuilding so determined efforts were made to protect its architectural history. This low-rise medium density urban pattern makes for a very livable city in which you have a village atmosphere of nearby shops in walking distance. The numerous little parks and tree-lined streets enhance this peaceful small-town atmosphere within the big city. It is great for the residents and a delight for the visitor who has the interest in strolling, especially in Society Hill.
There is a brilliant modern housing development on the edge of this colonial enclave by our renowned architect I. M. Pei, with two deluxe highrise towers placed on the east side of the district so as not to disturb things. Pei's real stroke of genius shows in the several blocks of low-rise townhouses he built along Locust St. in a design that conforms to the adjacent historic structures of Society Hill. This mix could be a model for rejuvenation of many other cities, and for wise suburban new developments that would use land efficiently while creating residential neighborhoods with urban amenities.
Walking along, you will soon come to South Street, "the hippest street in town" that jumps all day and night. Mostly for the young crowd, its six main blocks are lined with busy shops offering lots of fun, unique items. Here you'll find clothing, furnishings, antiques, novelty items, candles, records, books, fixtures and porn in a wild counterculture commercial mix. Look around and you'll find many dinner choices, ranging from the fast take-out to the charming sidewalk café. A good place to eat, or if it is early enough, just have a snack and keep walking.
Philadelphia's Italian Market, which runs along approximately ten city blocks of Ninth Street in South Philadelphia, is one of the oldest and largest open-air markets in America.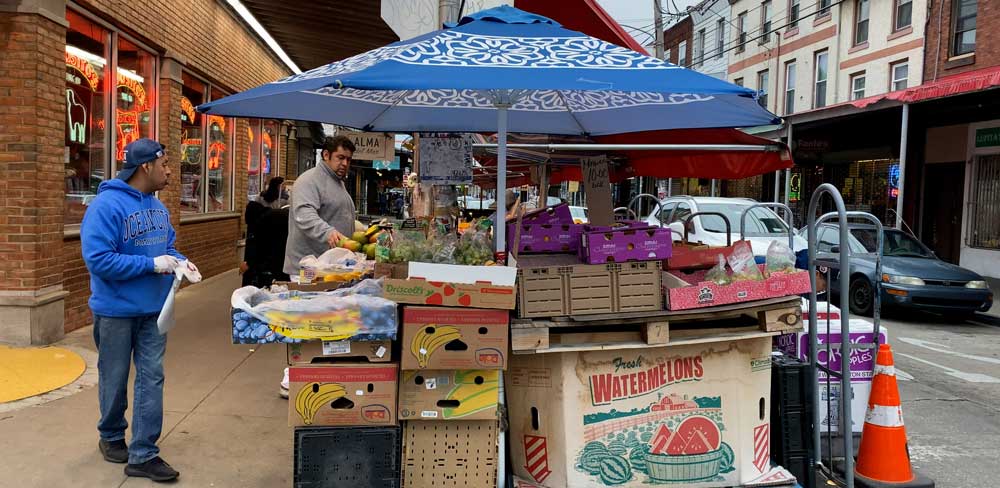 Nearly 200 individual businesses line the street, selling the freshest vegetables, fish, meats, spices and produce from their stalls, while gourmet shops and restaurants occupy storefronts in between. These butcher shops, bakeries and other specialty shops are throwbacks to another time, long before the advent of supermarkets. Shoppers truly marvel at the amazing array of products on display — and at the whole experience of it all.
DAY TWO: Downtown and some museums.
Start out your day with a walking tour of downtown, the prime business and shopping district. The modern downtown offers much to the visitor in the way of shops, parks, skyscrapers, and charming residential neighborhoods.
The heart of town is known as Center City, marked by the intersection of Broad and Market streets, the city's two main thoroughfares. The massive French Renaissance-style City Hall is situated at this junction. This largest city hall in the country looks like a giant palace, and for many years was the tallest building in town under a gentlemen's zoning agreement that was finally pierced by the post-modern One Liberty Place, a glass needle 60 stories high with a 58-story twin forming a vast mixed-use complex that includes the tony Ritz-Carlton Hotel. These glass skyscrapers are on Chestnut Street, the major east-west shopping street so you want to be sure to stroll along for a little while. Then walk south for two blocks to Rittenhouse Square, the most elegant residential neighborhood, with some lovely shops and cafes around. From the square turn east on Locust a few more blocks into the very epicenter of the urban core – all this is where it's at in Philly.
Passing Broad Street across the central axis of town to the east side, we are heading for one of the most fun places in town, The Reading Terminal Market, which has been in business for 109 years. At last count there were 23 places to eat inside this vast building, and twice that many shops for browsing. It's a good place to try Philadelphia's culinary gift to the world, the cheese-steak sandwich, a gooey conglomeration of fried beef and onions smothered in Cheez-Wiz. Or try Delilah's for a Southern platter ($7.50), or tacos, pizza, Chinese, Thai, veggie, sushi, or you can go for the Amish delights (more on the Amish in our Day Three agenda).
Philadelphia was a pioneer in museums of all kinds. Spend your second afternoon in most important -- the Philadelphia Museum of Art, which the art-lover will definitely worship for its extensive international collection. One of the world's great museums, certainly in America's Top Five, it houses priceless collections of art from the West and from the Orient spanning 2,000 years. Enjoy Impressionists, Early American, ceramics, reconstructed Spanish courtyards, Japanese teahouses, Indian temples and free lectures in an oasis of beauty minutes from downtown by taxi or city bus. If you didn't have lunch yet, they have a gourmet restaurant -- or a faster, cheaper cafeteria.

Others include the Rodin Museum, featuring the largest collection of sculptures by Auguste Rodin outside of Paris. The Franklin Institute Science Museum and Planetarium is full of marvelous things that move and can be moved, while the University Museum of Archaeology and Anthropology is a major feature of the University of Pennsylvania with a large collection from the ancient world.
The Barnes Collection is one of the country's greatest private collections of Impressionists and Post-Impressionists. The foundation owns more than 4,000 objects, including over 900 paintings, estimated to be worth about $25 billion.
These are primarily works by Impressionist, Post-Impressionist, and Modernist masters, but the collection also includes many other paintings by leading European and American artists, as well as African art, antiquities from China, Egypt, and Greece, and Native American art. The collection displays different types of artworks according to Barnes' methodology in "wall ensembles", often alongside hand-wrought iron, antique furniture, jewelry and sculpture, which allow comparison and study of works from various time periods, geographic areas, and styles.
The Foundation for Architecture, 215-569-3187, offers walking tours of various downtown neighborhoods on Saturday and Sunday, and during June, July and August there are some weekday evening tours. Each tour lasts about 2 hours and costs $8. Examples: Art Deco; Beaux Arts; 20th Century downtown; City Hall; Chestnut Hill; Old City.
DAY THREE: Amish Country
Going Dutch, Pennsylvania Dutch that is. You will find it very worthwhile to visit the Amish in Lancaster County. Devote the day and you will be transported back 100 years to a simpler life when there were no cars, telephones, TV or electricity. The Amish are a special people, still living in the traditional way, with horse-drawn carriages, plain clothing, traditional farming, humility, modesty and simplicity as some of their traits.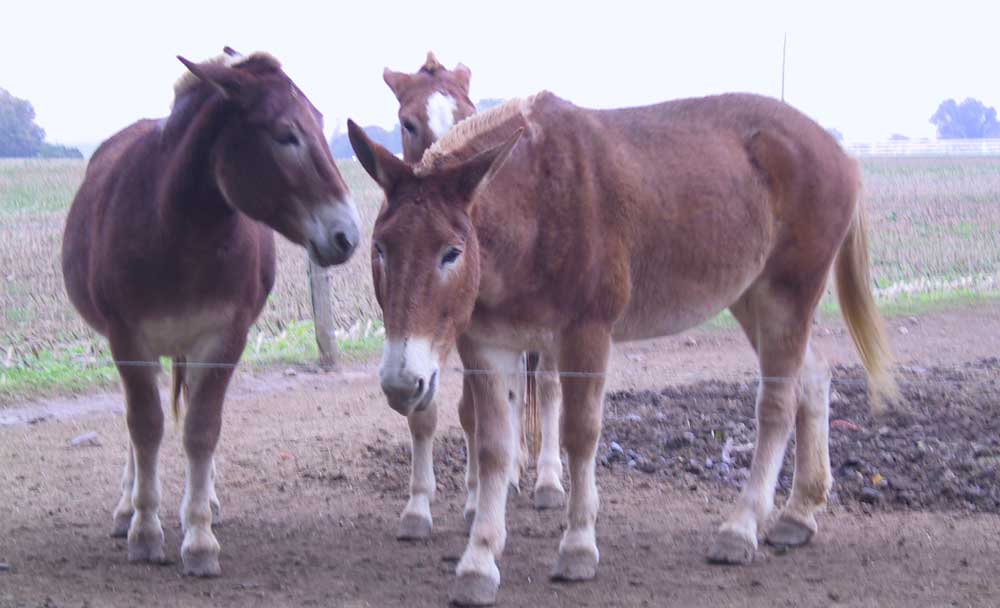 Above all, the Amish are a religious group with origins in 17th century Switzerland, first immigrating to America in the 1700s to escape persecution. Amazingly they have retained their distinctive culture during this long history, and are growing stronger than ever today. They resist the trappings of modern society because they value personal interactions within the family above all, and feel that television, automobiles and higher education will tear their families apart. It is a fascinating and mysterious culture.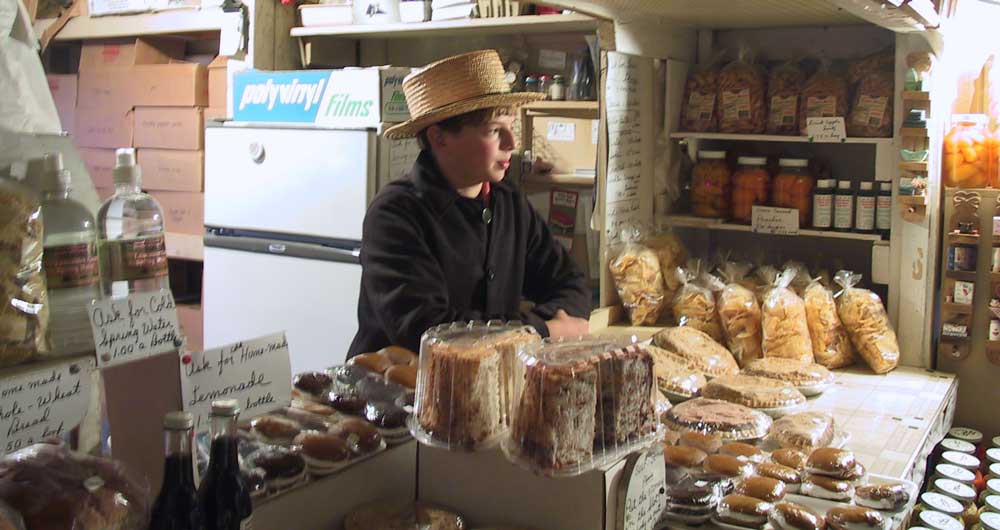 Of course, all is not perfect in Amishland. They have their occasional problems with youth rebellion (but 85% of the young do stay with the society). Some of the kids get into drugs or other mischief. They are primarily diary farmers, but a major cash crop is tobacco. Land ownership is becoming difficult with the growing population and rising prices. Telephones are creeping into the farm, but are restricted to separate outhouses in the back yard. Like any culture, they are coping with these challenges and making adjustments.
The rural setting is supremely beautiful for you will experience endless miles of rolling farmland dotted with barns, well-kept homes, one-room schools, and no power lines. It is a comforting delight to witness a team of horses pulling a plow in America's heartland in the 21st century.
Our modern world could learn some important lessons from these plain people. They are content with their place in life. Their simple lifestyle is a stark contrast to our endless pursuit of massive energy consumption, materialistic competition, status rivalry, high-stress agendas, endless progress and the rest of our preoccupation with the new and improved. The Amish have shaped a community that defies these values of our modern world, and suggests some quiet alternatives that could lend us some peace and serenity. You don't have to grow a beard and drive a horse-wagon to get there, but the simple things in life are waiting for you, in Lancaster County. Go have a look and think about it.
You can go by train, about one hour from Philadelphia's 39th Street station to Lancaster, and pick up various tours to the farms and villages.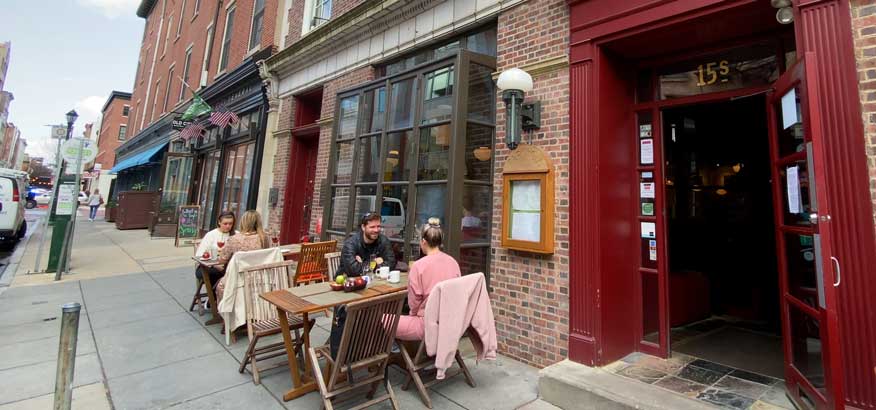 When you get back to Philadelphia, the perfect way to re-enter the modern urban world after this trip to the past is pay a visit to Old Town for dinner, just north of Independence Park. This fascinating neighborhood has become the "Greenwich Village" of Philly. Formerly run-down warehouses have been renovated and re-born as the trendiest part of town. The old brick buildings have been magically transformed into art galleries, shops and trendy restaurants, so you are most welcome to take an evening stroll and pick from a fine selection of eateries. Centered along 2nd and 3rd Streets between Arch St. and Race St., the place is safe and delightful. A great place to end your visit to one of America's great cities.