BOSTON
Three Days in Boston
Boston is a great, great town, ranking way up there in the top five American cities to visit, according to most recent travel magazine polls. The ten million visitors who come each year experience a wide variety of delights, including history, modern attractions, wonderful neighborhoods for walking, shops, restaurants, culture and the arts. It has a quaint European atmosphere, with abundant old brick buildings strung along narrow lanes, and yet it is the most American of places, where our nation began and where it continues to thrive with modern multi-cultural vigor. If you are in a big hurry and have only one day, do the Freedom Trail and the Faneuil Hall Marketplace -- but it would be a crime to miss out on the other riches this place can offer.
Boston is a city of neighborhoods, with a mosaic of ancient and modern feelings as you move from one part of town into another. The Financial Center is packed with new skyscrapers; yet the historic, charming streets of Beacon Hill and Back Bay date back hundreds of years; and the rest of the city, spreading over many miles, offers much for the visitor to discover. This is a great town for walking, so be sure to wear comfortable shoes and carry your map. Everything is amazingly compact in Boston, but the traffic's a mess, so don't even think about driving in town. Your feet and public transportation will get you everywhere quickly.
Boston has been enjoying an economic boom, as seen in glittery shop fronts, crowds of sharply-dressed young professionals, an explosion of gourmet restaurants, large numbers of post-modern skyscrapers, and high rents. Ironically, the economic slump and population exodus that hit many American cities during the 1950s-1970s, which saw Boston's population drop from 800,000 to about 500,000, helped to preserve the many historic urban neighborhoods -- there was no money or pressure to knock down the old buildings. At the same time the suburbs have grown so much that the greater metropolitan area now has about three million people.
By the time skyscraper development began in earnest during the booming 90s, the historic preservation movement had taken a firm hold to save the best of the past – so we have the best of the old and new together. The best example of this mix is Downtown, one of our first stops. Beacon Hill and Back Bay are so nineteenth century that we can hereby declare Boston to be America's Most Historic City! No other city has this many preserved sites directly associated with the American Revolution and the origins of our nation. Philadelphia is a close second, but Boston deserves the prize. Old and new at the same time is the mantra.
With America's most universities per-capita, Boston is a young, hip town bursting with high-tech companies that give Silicone Valley a run for its money. As a matter of fact Boston can even lay claim to ushering in the modern era with numerous high tech companies that sprung up along Route 128 in the fifties and sixties. A recent study of urban anthropology found that Boston has the fastest pace of life in America: people walk, talk and eat faster, they count their change faster, and they generally hustle more than the rest of us. And yet, with the fast pace of life Boston still enjoys a very high quality of life: the education levels are good, the cost of living is reasonable for a big city, and there are many cultural attractions for the residents and visitors alike.
Here is a summary of the visit:
DAY ONE: Downtown; Fanueil Hall Marketplace; Freedom Trail; North End.
DAY TWO: Beacon Hill; Boston Common; Public Garden; Newbury Street; Boylston Ave; Prudential Center; Hancock Tower; Museum of Fine Art; Gardner Museum.
DAY THREE: Lexington; Concord; Cambridge; Harvard.
STARTING OUT:
Park Street subway station is an excellent place to begin our visit, between Boston Common and Downtown. This original station of America's first subway line is still functioning, and easy to find, in the heart of the city. Look around to see Boston summarized in a glance -- the pretty Commons, America's first public park; busy Tremont Street funneling traffic into the impossible urban gridlock; Park St. Church, with its classic steeple, and looking in the direction we are heading, narrow Winter Street leading into the pedestrian zone of the city center. Have another quick glimpse at the Common for the breath of fresh air, but save that greenery plunge for tomorrow. We have a city to conquer.
Downtown Crossing is one of the busy crossroads of Boston, where the two biggest department stores, Macys and Filene's, face each other on a five-block pedestrian mall along Washington Street. At lunch hour the local workers really come out into the fresh air, offering a prime target for your people-watching. This is the place to be if you want to see Bostonians in their natural element.
The busy Financial District has many modern bank skyscrapers and insurance towers clustered in a tight zone downtown that makes an easy quick walk-through. You can reach the center of it by walking five blocks along Franklin Street to Post Office Square, a peaceful patch of green, with benches, fountains, a café, flowers, and wonderful buildings all around, including one of the city's top hotels, Le Meridien, where you could pop in for some refreshments, or just to have a look at this Florentine Renaissance Revival palace that used to be the Federal Reserve Bank – worth having a look inside, especially if you need some refreshment. Several of Boston's notable Art Deco buildings are on the square, including the Bell Atlantic Building, which has a lobby museum that recreates the laboratory of Alexander Graham Bell, who invented the telephone here in 1875.
Boston claims the third largest Chinatown in America, which you could reach from here with a six-block walk to the southwest -- but skip it unless you are especially interested, because the walk is through a rather bleak industrial warehouse section to a mediocre payoff and will burn up the energy you need for the excitement ahead. The ethnically diverse population of 500,000 is 10% Asian, 10% Hispanic, 30% Black, and half White.

Meander from Post Office Square in an easterly direction along Franklin and Milk Streets, heading towards the Custom House Tower, which is easy to find if you look up because it once was New England's tallest building at 495 feet. First constructed in 1847 at what was then the water's edge, it has classical columns going around all four sides of the foundation, making it look like an ancient Greek temple on the bottom. The skyscraper tower was added in 1915, rising like an obelisk, with more columns at the top. Originally a Roman dome, like the Pantheon, covered this magical building. You can still see the interior of this classical sphere by going into the public lobby, which houses a small, free, maritime museum. The tower is home to a Marriott Hotel, with an observation platform on top open to the public and offering a great view into the center of town.
You are now right at the edge of the city's most enjoyable place – Faneuil Hall Marketplace.
FANEUIL HALL MARKETPLACE
Incorporated directly into the fabric of downtown is the Faneuil Hall Marketplace, Boston's liveliest gathering place, with its food markets and many shops set in a restored brick complex of Colonial buildings. Inside Quincy Market, with its neo-Classical façade, and in the two other flanking brick pavilions, you will find 50 different shops, 40 food stalls and 14 restaurants. When the weather is fair, you can sit outside at one of the many cafes for a complete meal, or just enjoy a drink and a light snack. At some point you could set aside two or three hours for a meal and a good browse here.
This area had always been an important market center since the beginnings of Boston, located next to the docks where all the goods changed hands, but it had fallen on hard times by the early 20th century. Abandoned and dilapidated, the old brick warehouse buildings were ready to be torn down, until a brilliant architect, Benjamin Thompson, working with the Rouse Company, stepped in with some ideas borrowed from Europe and set in motion plans during the 1970s to completely renovate this complex into a lively shopping and dining mall. The marketplace renovation worked beyond the planners' wildest imagination, and Faneuil Hall became the new center of town, for both locals and visitors. This was the first urban market in modern America to be rebuilt, and it set the tone for many others to follow. The planners got some of their inspiration from the food market in Helsinki, Finland, which carries on an ancient European tradition.
The government still operates nearby, across the street in the ultramodern City Hall, but as you might guess from the massive building, town meetings have been replaced by a typical bureaucracy controlled by the political game -- a patronage system that has been perfected in Boston over the years and launched many colorful politicians onto the national scene. Don't bother trying to get a closer look at the Federal Government Center beyond, which may be an efficient place to accommodate workers but is an example of 1960s wind-swept barren plazas surrounded by massive sterile towers -- urban renewal at its worst.
Now is a good time to join the Freedom Trail tour, conducted by National Park Service Rangers.
FREEDOM TRAIL
This is one of the premier activities you should take advantage of, offered several times each day at no charge by Rangers in the National Parks Service. This visits many of the sites important to the beginning of the Revolutionary War and our independence from Great Britain. You might be surprised to find park rangers here in the middle of downtown, but you will be delighted with their services, which include a Visitor Center that has free maps and information, a bookstore, restrooms, and Rangers to talk with. The Rangers are here to protect our history and explain it to visitors, particularly Boston's role in the American Revolution. The National Park Service office and shop are located in a store-front next to the Old State House on State Street, where the walking tours begin each day. It is best to show up at least 30 minutes before the tour begins to sign up, because they do not take advance reservations, and group size is limited to 30 people. The Freedom Trail Walk is three miles long and takes two hours, with the first 1 ? mile section containing most of the interesting sights to be covered by the Park Rangers.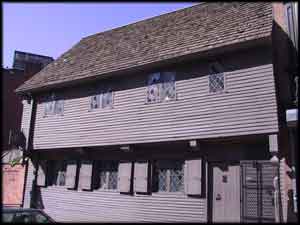 The Freedom Trail is actually a collection of sites related to the troubles, the agitation, that would lead eventually to the foundation of the United States of America. These places are important not only to Boston but to the entire country, so Congress created the Boston National Historical Park in 1974. The principal sites on the Trail include the Old South Meeting House, the Old State House, Boston Massacre site, Faneuil Hall, the Paul Revere House and statue, and finally Old North Church. The only interior visit with the Ranger is at Faneuil Hall. Of course you could do it on your own, especially if you bring along some historic descriptions to help you understand the sites, which would give you more time to pay the admissions and enter the different sites, but then you miss out on one of the great all-time travel bargains: knowledgeable Ranger lectures for free.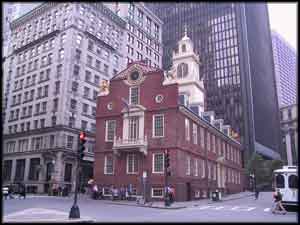 The Old State House, where the Ranger walk begins, is a classic example of Colonial architectural style, with a Georgian brick design, dormered windows, and topped by a multi-level wooden tower. It was the headquarters of the British government from 1713 until they were kicked out in 1776, and it later went through a variety of uses, including fire station, wine cellar, offices and men's clothing store. Now it is a private museum with a restored interior, and a subway station in the basement. The Boston Massacre occurred on the corner in front of this building in 1770, when a rowdy group of Colonists taunted some British soldiers, who fired on the mob, killing five citizens. Not much of a massacre, but it was the first bloodshed leading to war.
The Freedom Trail continues a few blocks along Washington Street to the Old South Meeting House, built in 1729. It is most famous as the place where the Colonists gathered on December 16, 1773 to discuss the problems of the Tea Tax, which led later that night to the Boston Tea Party, the first major act of insurrection against the British. Old South was built originally to be a Puritan Church for that strict religious group of people who founded Boston. Their goal was to purify the Church of England, which they felt was too much like the Catholic Church, with similar traditions, art works and ceremonies. Puritans wanted to strip those rituals away from the religion and build a plain church in which to gather, so there is no stained glass or fancy ornamentation in this wooden box with a steeple. They didn't think of building as a sacred structure built exclusively for the glory of god, so it was used for non-religious purposes like political meetings and other practical purposes. As the largest meetinghouse in town, the patriots often used it to discuss matters of British policy. Today it is a museum with paid admission.
The Old Corner Bookstore, one block away in the heart of downtown on Washington Street, began life as a pharmacy in 1718 and became a bookstore and publisher in the 1830s, where many literary giants like Emerson, Thoreau, Hawthorne, Melville and Longfellow gathered to shoot the bull. Currently operated by the Boston Globe as a historic bookshop, it is one of America's oldest stores.
A few blocks away you are back at Faneuil Hall Marketplace, first built in 1742 by a wealthy merchant, who had the brilliant idea to finance a public meetinghouse upstairs by renting out shops on the ground floor. This was such a good plan that it is still working today, with a nice collection of excellent tourist shops downstairs that you will want to browse through later.
Important town meetings were held at Faneuil Hall, going back to Revolutionary days when the citizens could assemble to freely speak their minds, vote on the issues, make speeches protesting British rule, and plan how things should change. There were such fiery speeches here by Samuel Adams and other rebel leaders, this hall became known as the "Cradle of Liberty." Ideas that developed here spread throughout the rest of the Colonies, leading to warfare and independence. After the Revolution, some government meetings continued here, along with social functions, like gala banquets and balls. Even today the hall is used for political speeches, literary readings and civic functions, such as swearing in new citizens -- which is most appropriate, considering this is where the Colonists took their first steps towards becoming citizens of a new nation.
NORTH END:
The Freedom Trail now continues into the North End, just a few blocks north of Faneuil Hall, so it is an easy walk to get here, and along the way you will cross through the middle of "The Big Dig," America's largest public works projects which will eventually create an underground freeway through the heart of town, at a cost of 15 billion dollars.
Paul Revere House: This is the oldest wooden dwelling in Boston, built in 1680 in the first residential neighborhood of the city, North Square, which is still a charming little cobbled street. A century later Paul Revere moved in and raised 14 children here, while pursuing his craft as a silversmith. The house nearly collapsed during later years, when it was used as a cigar factory, general store, candy factory, and tenement, but early in the 20th century it was restored and is today a private museum with many original furnishings. Your admission fee also covers the adjacent Pierce-Hichborn House, the oldest brick dwelling in town.
Three blocks further north along Hanover Street you will reach the Paul Revere statue, which commemorates his "Midnight Ride" of April 18, 1775, when he galloped off to shout out, "the British are coming." Two problems with this story are: he wouldn't yell or even ride fast, because enemy troops were everywhere and would stop him; and the troops were called "regulars" rather than "British." By some accounts, Revere was arrested before he could even deliver his message, which was then carried to Lexington by Dr. Samuel Prescott. However, Revere claims in his journal, and our Ranger agreed, he made it to Lexington and got word to Hancock and Adams to escape; then he was arrested, his horse taken from him, and had to walk back to Lexington, arriving in time to witness the historic skirmish with the British. Each park Ranger has shaped their own stories about this fascinating event, so be sure to ask your guide for their version.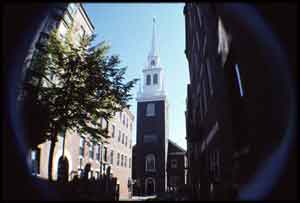 Just behind the Revere statue is the Old North Church, which hung those lanterns to warn of the arrival of the British -- "one if by land, two if by sea." There was a previous Old North Church a few blocks away that burned down, leaving this one as the oldest surviving church in town. Officially, it is Christ Church, and is built in the typical New England style of the wooden box with a steeple. It costs a few dollars to go inside to see the rather plain interior, so just enjoy it from the outside. The Ranger will leave you at this point, and we suggest you end your pursuit of the Freedom Trail here and take a stroll through the colorful North End, where you are now standing.
Mama mia, Bostonians don't call it Little Italy, but that's what it is today, a most colorful neighborhood. This is one of the oldest parts of town and offers quaint cobbled streets lined with history for you to enjoy on foot. It was the financial and social center of Boston in the earliest Colonial days, and then was taken over by various waves of immigrants. Since it is so close to the docks, new arrivals would get off their ships, walk a few blocks over, and move in with their countrymen. The English were followed by the Irish and then the Jewish, living in such crowded conditions in this tiny 1/3 square mile community that population densities were some of the world's highest.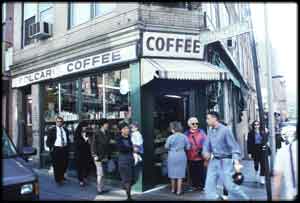 During the 19th century the North End became a magnet for Italian immigrants and they created a community that is still thriving today, filled with the aromas and romance of the Old Country. Here you will find some outstanding Italian restaurants serving meals at give-away prices. You can get a delicious meal with three kinds of pasta, for about five dollars at La Familia Giorgo, a small chain with a few other branches around town, including a branch on Newbury Street. Look around on Salem Street and Hanover Street and you will find several other family-operated restaurants, like Lo Conte, with home-style cooking in the same rock-bottom price range. If you want to splurge, go for Mamma Maria, 3 North Sq., reputedly the best in the North End.
Narrow side streets lead off from the main roads, making for some enjoyable wanderings. This is the kind of neighborhood that National Geographic writes feature articles about, for it is bursting with charm and filled with friendly people who are comfortable talking with their neighbors on the street. This Old World earthiness is hard to find in cities today, so take advantage and dive in for some exploring.
The Freedom Trail does continue another mile across the river to the Charlestown Naval Shipyard for a star attraction, "Old Ironsides." It is far to walk, but if you have just had a meal you might be ready for it, or call for a taxi. If you are taking a bus or trolley tour, as we suggest, you will be brought right there. Another good way to reach this display is by MBTA ferry from Long Warf at the end of State Street, or city bus from the Haymarket, which will get you close for $1.25 each way.
The USS Constitution is the world's oldest commissioned warship, originally built in a shipyard along the edge of Boston Harbor back in 1797, and still on active duty in the US Navy. After the Revolutionary War America disbanded its navy, but then a few years later it found a need to rebuild the fleet, starting with the Constitution. It was designed to protect American shipping from the pirates in the Barbary Coast along the north of Africa, and has stayed on duty ever since. It was tied up at the dock in 1881 and only sailed once more until its 200th birthday in 1997.
This is an incredible ship, 200 feet long, a mainmast 220 feet high, and during its heyday of cruising the high seas, had a crew of 500 men, with 54 cannons, each of which was manned by 6 to 9 sailors and fired 32-pound shot a distance of 400 yards. It engaged in 33 different battles during three major wars, and was undefeated -- never beaten and never boarded. Her sides are actually made of wood, not iron, but are so hard that no cannonballs ever came through.
Several times during her history the warship was nearly scrapped, but through hard work and some miracles, has been preserved as a great monument to the history of America's warfare at sea. There is also a fascinating little museum on the dock with some very educational displays about life on board the Constitution. The ship and museum are free, since they are owned by us and operated by the National Parks Service.
You have had a long day, so you are probably ready for a rest at your hotel, and then find dinner at a nice restaurant. Check the local listings or ask your hotel desk, for music and theater events in this cultural beehive.
DAY TWO:
BEACON HILL: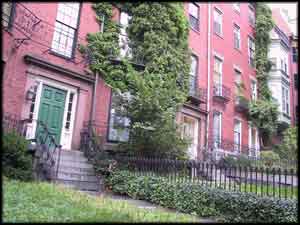 A great way to start your day is take a walk in this is very elegant neighborhood of Beacon Hill, a peaceful residential section consisting mostly of old brick townhouses, along with a nice shopping area on Charles Street, with little grocery stores, antique shops, furniture restorers, restaurants and community shops of various kinds. It is the kind of neighborhood that is so pleasant, and indispensable to understand what this town has to offer, that it would be most unfortunate to come all the way to Boston and not find time to visit Beacon Hill. Here is another example of why there is little point coming to an important and interesting place like Boston for only one day, thinking that you have seen the town, but missing out on great sights like this -- which is why we are presenting this "Three Days" series, to help you cover a place in-depth and not miss out on the good sights.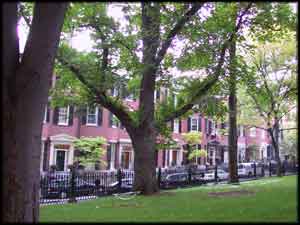 Located just across the Boston Common from Downtown, Beacon Hill is a vital living neighborhood today, with a noble history that goes back 200 years to when the State Capitol was constructed here, in 1795. These streets are reminiscent of some older parts of London -- small brick buildings, beautiful trees planted for street landscaping, old-fashioned lamps to light your way, in a quiet, peaceful, protected neighborhood.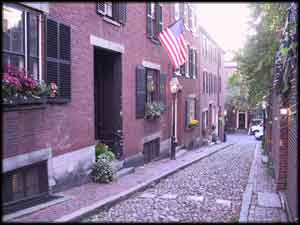 Your best route for walking through Beacon Hill is back and forth along Chestnut and Mt. Vernon Streets, between Charles and joy. This will bring you past many quaint brownstones and townhouses, mostly built of brick in the Early American style, on charming lanes lined with leafy trees -- all ablaze in color if you can manage to be here in October, the best time. Two blocks worth a closer look here are impossibly picturesque Acorn Street, with its narrow cobbled appearance, and Louisburg Square, a small private park surrounded by brick mansions and row houses built in the early 19th century, forming the most beautiful residential complex in Boston,and home to some of the leading citizens, including Senator Ted Kennedy. For a glimpse inside one of the mansions, you can visit the 1805 Bulfinch-designed Nichols House, 55 Mount Vernon Street.
It is fascinating to see how a residential community that gradually developed 200 years ago seems to function better than most modern residential communities built today. Compared to suburbia, or modern skyscraper apartment buildings, Beacon Hill has the best of both those worlds, without the drawbacks: it is down to earth, medium density, not crowded or noisy, efficiently uses space, and has plenty of shops and urban amenities in walking distance, all wrapped in a pretty architectural ensemble of brick townhouses. It is very livable, with many services nearby. Neighbors can gather on the front porch, or go around the corner to Charles Street, a lively commercial section, to pick up some fresh produce from the sidewalk stalls or browse in the unique shops. No wonder that the famous Cheers bar where everyone knows your name is located right here. Cross over Beacon Street into the Common for total immersion into a bit of clean, green nature.
BOSTON COMMON and PUBLIC GARDEN:
The Common is the oldest public park in America, set aside in the mid-17th century for public use, and it has been open every day since. The very first Bostonian, the Reverend William Blackstone, had his house here, along with his treasure of 200 books. You might see exotic wildlife like squirrels and chipmunks scampering about, dogs getting their exercise, and birds chattering away. The Brewer Fountain is a beautiful copy of a Parisian original from the 1850s. Slice through the Common heading west to the adjacent Public Garden.
The Garden is a real oasis in the middle of the city -- beautifully landscaped with 24 acres of ponds, lawns, trees, flowerbeds and walking paths, with a number of benches so you can sit and relax. We are often in such a hurry when visiting a place there is not much time to relax, but here is the perfect opportunity to take it easy for a little while. Especially if you are here during the fall season as we recommend, the gardens are ablaze with color from the turning leaves, and the carefully tended flowers. There are the swanboats, a lot of geese, swans, ducks and squirrels. The idea for the park was first suggested back in 1824, and in 1859 the designs began, creating America's first public botanical garden.
The centerpiece is the pond, surrounded by weeping willows, more flowers, welcoming paths leading around it, with many benches where you can sit and soak in this glorious scene. The pond, just four feet deep, is drained several times a year to keep it fresh, and in the summer you can have a ride on the signature swan boats, gliding gracefully since the 1880s. Walk across the little bridge that looks like a suspension bridge with its decorative hanging chains, and keep on going past the 1869 equestrian statue of George Washington, across the street to the Ritz-Carlton Hotel for a refreshing break.
BACK BAY:
At the beginning of Newbury, on the corner overlooking the gardens, you will find the Ritz-Carlton Hotel -- not just any old Ritz, it is the very first, the original that set the tone for luxury in America and spawned the major deluxe chain. Even if you are not a guest, do drop in and admire the atmosphere and perhaps take some refreshments. Afternoon tea is served daily, and there is an excellent restaurant.
Newbury Street is one of the trendiest places to be, with its collection of boutiques, art galleries and restaurants, offering a guaranteed great experience in your visit. The Victorian townhouse architecture in this formerly residential street has been embellished and gentrified into the upscale shopping district we find today. This is the heart of the Back Bay neighborhood, which includes a large elegant residential section covering an area eight blocks long and five blocks wide, with the grand boulevard of Commonwealth Avenue running through the middle. If you are interested to explore the residential atmosphere, take a detour along Marlborough Street where you can appreciate the 19th century townhouse architecture at its best.
You will find plenty of attractive shops to browse in the eight blocks of Newbury Street between Massachusetts Avenue and the Public Garden, including Armani, DKNY, Louis Boston, Laura Ashley, Max Mara, Oilily, Talbots, Anthropologie, Gap, Banana Republic, and many little specialty boutiques. There is a greater concentration of art galleries on Newbury Street than any place else in the city. Some of them are up on the second floor, so keep looking up and down as well as around. One of the artistic treasures to look for is the imaginative outdoor wall mural by Richard Haas, one of America's great urban painters. A historic attraction on the corner at Berkeley Street is the Church of the Covenant, built in a Romanesque style, with Tiffany stained glass windows, and a 236ft. steeple that was once the tallest in town.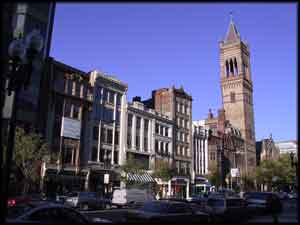 Boylston Street, another one of the very nice shopping strips in the center of town, is parallel to Newbury, one block over. You cannot miss the big giant teddy bear in front of F.A.O. Schwartz, and you'll find Brooks Brothers, more jewelry shops, investment houses, and some very impressive modern skyscrapers along Boylston. Another landmark church is the curiously named New Old South Church, built in a northern Italian Gothic style, dating back to 1875. Across the street, take a break in one of the great squares of town.
COPLEY SQUARE:
Surrounded on all sides by fascinating buildings, with a pleasant little urban oasis in the center, this piazza is a fine place to soak up some architectural history, starting with the
Neo-Romanesque Trinity Church, opened in 1877, one of the finest buildings in Boston. Facing Trinity across the square is another of the city's most celebrated buildings, the Public Library, built in the style of an Italian Renaissance palace from Florence and completed in 1895 as the first major Beaux Arts structure in America. Inside the building is even more beautiful, with a serene inner courtyard cloister, multi-colored marble ornamentation throughout, dozens of important statues, and numerous spectacular murals, including the supreme artistic achievement of John Singer Sargent, which he worked on for 30 years. The library needed more space to grow, so Phillip Johnson was commissioned to built an annex, which has become another one of the city's most wonderful buildings.
Adjacent to the library is one of the most elegant hotels in Boston, The Fairmont Copley Plaza Hotel, the "grande dame" of the city. It is the ultimate in luxury, so you probably cannot afford to stay here, but take a walk inside anyway -- they don't mind. There are two restaurants for you to consider and one of the best jazz bars in town. Crystal chandeliers, rich red carpets, fresh cut flowers, attentive staff, lush furnishings, millionaire prices – eat your heart out. If you dare splurge at one of Boston's finest, the weekend rates are generally less, because this is an expense-account business setting.
The most spectacular of landmark buildings at Copley Square, in stark modern contrast to the others, is the Hancock Tower -- at 740 feet, the tallest building in New England. Designed by I. M. Pei in his bold signature style of sharply angled steel and glass, the building features the most dramatic observation deck in town, giving you a breathtaking sensation of flying over the city.
The other giant tower in this neighborhood, three blocks away, is The Prudential Center, which contains another one of the town's biggest shopping malls, and a 360-degree panoramic viewing deck. The mall has some good places to eat, including a food court for quick meals, or better yet, try the busy branch of Boston's most popular chain of restaurants, Legal Seafood. Here you will find a high quality meal, featuring fresh fish obviously, but you will probably have to wait 30 minutes for a table at busy times (they loan you a buzzer so you can keep shopping), and then when you finally sit down, their service can be a bit slow, and so it is best to time your Legal meal for an off-peak hour if your stomach will allow. They do accept reservations for lunch only. The mall is connected by a sky bridge across busy Huntington Avenue, to the Copley Place Shopping Center, anchored by Nieman Marcus and the Marriott Hotel, with many more upscale shops to explore, and a wonderful atrium cocktail lounge.
Have lunch and rest, for the second half of the day now kicks in with a trip to two excellent museums.
TWO ART MUSEUMS:
You can conveniently get from Copley Square to these two museums by public transportation -- either with the frequent bus service along Huntington Avenue, or take the "E" train, from the Copley Square T station, that becomes a surface trolley on the way out to the Museum station.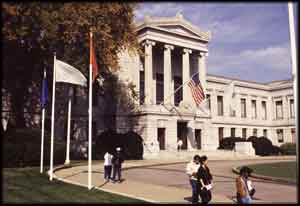 The Museum of Fine Arts is housed in a lovely neo-Classical structure that looks like it is from ancient Athens, with marble columns, triangular pediments and bronze statues, supplemented with a new wing designed by I. M. Pei. Inside the museum is a collection of over one million objects, including the largest collection of paintings by Monet outside of France, with 38 works, and several more rooms of Impressionism. It comes together in a large room that has one of the best museum displays in the world, staring Gaughin's "Were Do We Come From…" and supported by a few dozen Impressionist masterpieces.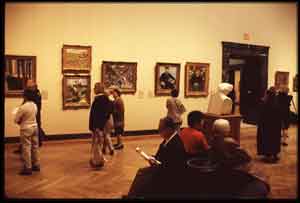 The museum also has a strong group of Italian Renaissance paintings, Egyptian mummies, Picasso, El Greco, many classical statues, Pre-Columbian, and other ethnic arts from throughout the world. They are especially strong in Asia, with reputedly the finest collection of Oriental art in the world, including an entire Japanese garden and a rich Chinese jade assembly. Naturally, there is a major section for early American art, decor and furnishings, including many paintings by Winslow Homer, John Copley, Gilbert Stuart, Charles Wilson Peale, Thomas Eakins, Albert Bierstadt, John Sargent, and all the rest. The Modern wing features Jackson Pollock, Edward Hopper, Andrew Wyeth, Georgia O'Keeffe, They also have a very convenient cafeteria and gift shop. A great afternoon can be enjoyed at the museum. If it is late Friday afternoon, you could crash the big party geared towards the single yuppie scene.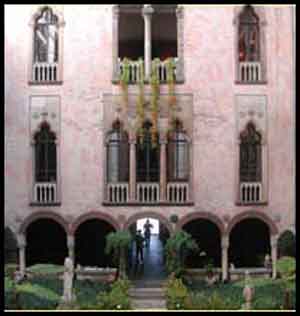 Just two blocks behind the Museum of Fine Arts, you will find the Isabella Stuart Gardner Museum, containing paintings and sculpture by many European masters, but the most appealing thing about the collection is the building itself, which looks like a palace from Venice, decorated with hundreds of architectural fragments from different periods that have been deftly combined. Mrs. Gardner, an extremely wealthy connoisseur of the arts, was quite the character back in the late 19th century, one who loved to travel through Europe collecting art. She purchased pieces of separate palaces in Venice and shipped them back to Boston to be incorporated into this mansion, which looks like it should be on the Grand Canal. The effect is striking, especially in the central courtyard and surrounding arcades on the ground level that make you believe you are back in Renaissance Italy. Highlights of the museum include paintings by Manet, Matisse, Whistler, Turner, Sargent, Corot, Mantegna, Bellini, Botticelli, Raphael, and many statues from ancient Greece and Rome.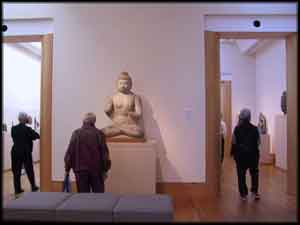 It has been a long couple of days, but you have seen the best of Boston. Now hop that bus or trolley back to your hotel, or if you are exhausted, flag down a taxi (warning: they are expensive). Have a rest back at your hotel and then head out for another memorable dinner. If you are the type with unlimited energy, consider one of the many evening cultural attractions, ranging from major Broadway productions, to little jazz clubs, or the Boston Symphony.
DAY THREE:
DAY-TRIP: Concord and Lexington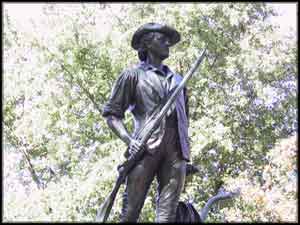 These historic towns and beautiful landscapes are less than 15 miles from Boston, and make a very rewarding excursion that you could do on your third morning, either with an organized tour, or by renting a car. This trip into the countryside is especially wonderful in the fall when the leaves are turning, usually peaking during the two weeks around October 15. You could keep going all the way up into southern New Hampshire if you really want to immerse yourself in the landscape, but if time is short, you might want to get back into town for a final afternoon of further discoveries.
One could argue that American history began here, with "the shot heard 'round the world," for indeed, this is where the war with Britain finally began. On April 18, 1775, British troops marched out of Boston, heading for the nearby towns of Lexington and Concord to seize a large supply of gunpowder and weapons the Colonists had hidden in the area. The British also planned to arrest John Hancock and Sam Adams, who were there preparing to travel to Philadelphia for the Second Continental Congress.
The next morning, the British army had advanced to Lexington and there met resistance from a small band of farmers on the village green, where the first shots were fired, marking the beginning of the Revolution. Nearly 700 British troops opened fire on the badly outnumbered 77 militiamen, killing 8 of them and marched on towards Concord, where they met up with more resistance at the Old North Bridge. Another round of shooting took the lives of two on each side. The war was on.
You know the rest, from the books you have read, how the British Regulars fired and fled. How the farmers gave them ball for ball, from behind each fence and farmyard wall, chasing the Redcoats down the lane, then crossing the fields to emerge again, under the trees at the turn of the road, and only pausing to fire and load -- as Henry Wadsworth Longfellow eloquently put it in "The Midnight Ride of Paul Revere."
After these skirmishes, the British army retreated back towards Boston but all along the way they were attacked by several thousand rebel fighters, who popped up behind walls and trees, killing many Redcoats in what became a major defeat for the British. These simple farmers had wounded the invincible British Empire in a historic day considered to be the beginning of the Revolutionary War.
The National Park Service and local historical societies have preserved the sites of these important events, so you can get a vivid feeling about those long-ago clashes by walking across the battlefields, into the old taverns, across the bridge and through the towns. Informative displays and guides bring the events back to life for you, and the towns of Concord and Lexington have preserved an authentic Colonial feeling in much of their architecture, which further heightens the historic atmosphere. Minute Man National Historical Park operates a Visitor Center in Lexington, and another center at the North Bridge in Concord, presenting color films and other exhibits that help you understand these events.
CAMBRIDGE and HARVARD
On the way back into town we suggest you make a stop in Cambridge, unless you have too many things yet to accomplish in the city, on this last afternoon of our itinerary. Cambridge is the home of America's oldest and most prestigious university, Harvard, founded in 1636, and another great school, M.I.T. A visit Harvard is worthwhile for several reasons, especially if you are interested in history and museums. The campus is a beautiful place, sprinkled with wonderful buildings from the 18th century built in the "Georgian" style and complemented by a rich variety of more modern architecture. A great way to see the campus is take one of the free walking tours conducted by students several times daily. Or you can take a number of virtual tours from home via their brilliant web site (see listings).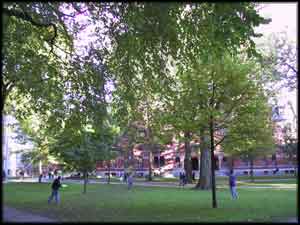 The Harvard Yard is the central lawn of the magnificent campus, surrounded by freshman dormitories built, like many of the structures on campus, in a very pleasant Colonial brick style, covered in ivy, exuding a rich intellectual history. Several outstanding buildings on campus are worth a look, including the Widener Memorial Library, third largest in the world, with 3 million volumes, and Massachusetts Hall, the oldest surviving building, from 1720.
There are four museums at Harvard that are especially worth your time, starting with the finest college museum in the country, the Fogg Museum, containing the works of many important artists from Europe and America. If you want more you will find it at the Sackler, for Asian arts, the Peabody, for culture history, and the Harvard University Museum, with its famous display of 164 glass flowers, along with a complete natural history exhibit. The Carpenter Center for the Visual Arts has smaller exhibits of contemporary work, but is mostly notable for the building itself, which is the only creation of Le Corbusier in North America.
This wraps up three days in Boston. Now pick one of the best restaurants in town to reward yourself for the excellent job you have done – but reservations are required days ahead for the top spots. It helps to be organized and plan. It takes time to make reservations, reserve mileage seats, pick the right hotel, and do your research, so this is a good time to prepare for that perfect fall vacation in Boston.